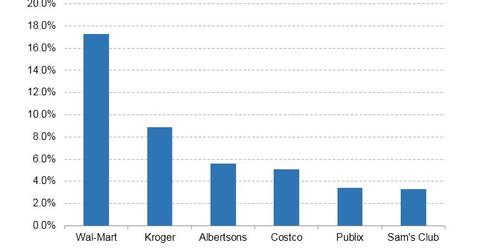 Dash Wand Reveals Amazon's Grocery Strategy
By Ruchi Gupta

Updated
Bulk of food shopping happens offline
A pattern is starting to emerge in Amazon's (AMZN) efforts to draw grocery spending. The company appears to have discovered that the highway to consumers' hearts is through their stomachs. Amazon's philosophy also appears to include showing people how to save money.
Thc company understands that it has a high wall to climb to claim a significant share of the ~$800-billion US (SPY) grocery market. As consumers prefer to touch and smell food before they buy it, the bulk of food shopping has stubbornly remained offline.
As the above chart shows, legacy retailers Walmart (WMT), Kroger (KR), and Costco (COST) continue to dominate the grocery retailer space, despite a lot of consumer shopping shifting online.
Article continues below advertisement
Amazon discounts Prime subscription
In recent months, Amazon has made several moves to try to grow its share of the grocery retail market. For instance, in June, the company announced a discounted Prime subscription for people on government assistance. The move was viewed as Amazon's attempt to draw more budget shoppers to its Prime loyalty membership.
Shortly after discounting Prime subscription for people on food stamps, Amazon launched a shopping device called Dash Wand. The device can be placed in a home for convenient food reordering. Dash Wand supports voice shopping and appears to complement Amazon's Echo device.
Amazon dangling carrots in front of food shoppers
In a move that seems to be aimed at appealing to budget shoppers, Amazon is essentially giving away Dash Wand free of charge. Whereas the device costs $20, once shoppers register their devices, Amazon refunds them through a $20 shopping credit. With discounts and freebies, Amazon hopes it can accelerate its break into the lucrative grocery business.