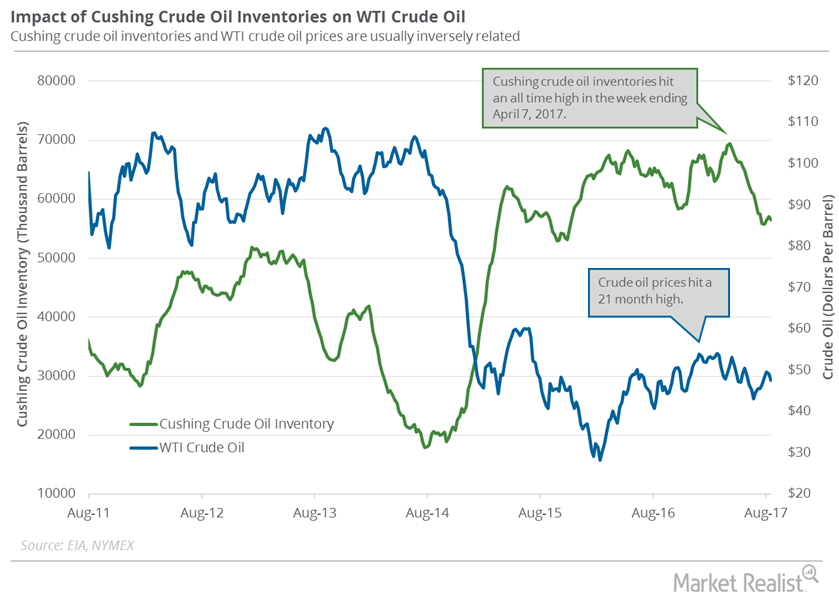 Cushing Inventories Fell 8 Times in 10 Weeks
Cushing inventories  
A market survey suggests that Cushing inventories fell between August 18 and August 25, 2017. Cushing inventories fell for the eighth time in ten weeks. A fall in Cushing inventories is bullish for crude oil (RYE)(VDE) prices. Cushing is the largest crude oil storage hub in the United States.
Higher crude oil (XES)(BNO) prices have a positive impact on oil and gas producers like Carrizo Oil & Gas (CRZO), Warren Resources (WRES), PDC Energy (PDCE), Cobalt International Energy (CIE), and Continental Resources (CLR).
Article continues below advertisement
EIA's Cushing crude oil inventories  
The EIA (U.S. Energy Information Administration) released its "Weekly Petroleum Status" report on August 23. It reported that Cushing crude oil inventories fell by 0.5 MMbbls (million barrels) or 0.8% to 56.5 MMbbls between August 11 and August 18. Inventories fell by 8.36 MMbbls or 12.8% from the corresponding period in 2016.
EIA's US crude oil inventories 
Impact 
Cushing crude oil inventories are at the lowest level since November 2015. They've fallen ~19% from its all-time high. Nationwide crude oil inventories have fallen 14% from an all-time high. A fall in US and Cushing inventories could benefit crude oil (UWT)(DWT) prices.
Next, we'll analyze the how the US crude oil rig count drives crude oil prices.