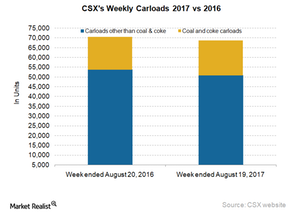 CSX: Intermodal Pushed Volumes despite Fall in Railcars in Week 33
By Samuel Prince

Nov. 20 2020, Updated 4:39 p.m. ET
CSX's freight volumes
CSX (CSX), which dominates the US East Coast along with Norfolk Southern (NSC), reported a volume loss in week 33. In the week ended August 19, 2017, CSX hauled nearly 69,000 railcars compared with ~70,500 units in the week ended August 20, 2016. CSX's volumes trended in contrast with NSC's traffic in week 33 of 2017.
The fall in overall volumes was due to a 5.4% decline in CSX's carloads excluding coal and coke carloads. In the reported week of 2017, the company's volumes, excluding coal and coke, totaled ~51,000, compared with ~54,000 units in week 33 of 2016. 
Article continues below advertisement
However, the fall in volume was restricted by 6.7% growth in coal (ANR) and coke shipments in the reported week. In 2017, these railcars totaled ~18,000 compared with ~17,000 carloads in the 33rd week of 2016. As in week 32, week 33 of 2017 saw a contraction in CSX's railcars, unlike the overall numbers of US railroads.
Advancing and declining commodity groups
A close study of the freight data suggests that CSX has lost some business to rival NSC in 2017. The commodity groups that posted a rise in volumes were food products, chemicals, and non-metallic minerals. 
The declining commodity groups were grain, petroleum and petroleum products, motor vehicles, lumber and wood products, as well as stone, clay, and glass products.
Article continues below advertisement
CSX's intermodal traffic
In the week ended August 19, 2017, CSX's intermodal volumes grew 6.2% to ~56,000 trailers and containers. These volumes totaled ~53,000 units in the corresponding week last year. The company recorded 6.7% growth in container traffic to 54,000-plus units in the reported week compared with nearly 51,000 units in the same week in 2016.
Trailer volumes shrank ~7% in week 33 of 2017 to ~1,800 trailers from ~1,900 units in week 33 of 2016. The percentage rise in CSX's intermodal traffic was lower than the 8.2% growth reported by US railroads (UNP) in the reported week of 2017.
Investing in ETFs
United State's key transportation and logistics companies are included in the portfolio holdings of the VanEck Vectors Morningstar Wide Moat ETF (MOAT). 
In the next article, we'll cover Union Pacific.