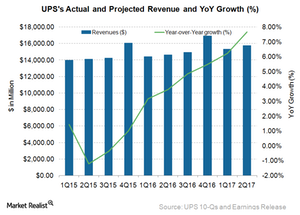 Could United Parcel Service's Revenues Rise in 2H17?
By Samuel Prince

Aug. 1 2017, Published 2:43 p.m. ET
UPS's 2Q17 revenues
In 2017, United Parcel Service (UPS) witnessed a decent jump in its revenues. The company beat the analysts' revenue estimates by 1.8% with reported revenues of $15.8 billion in 2Q17.
When compared with its 2Q16 revenues of $14.6 billion, UPS's 2Q17 revenues rose 7.7%. Investors should note that all verticals in the company posted revenue growth.
Article continues below advertisement
Inside UPS's 2Q17 revenues
United Parcel Service's strong ground network and technology infrastructure pushed its B2B and B2C[1. business-to-consumer] e-commerce revenues in 2Q17. The company's tonnage and volume improvements, along with enhanced economic activity in the US and overseas, fueled its revenue growth in the second quarter.
However, the strong US dollar acts as a revenue deterrent for companies like United Parcel Service that have a strong international presence. In 2Q17, the headwinds related to the strengthening US dollar and reduced fuel surcharges acted negatively on UPS's overall revenues. Let's look at the key points related to UPS's 2Q17 revenues:
Revenues from UPS's US Domestic operations rose 8.1%, driven by solid growth in its Air and Ground Services segment.
Export volumes rose 12%, and all International Regions posting gains.
International revenues rose 2.8% and jumped 8.3% on a currency-neutral basis.
The Supply Chain and Freight segment posted a 12% rise in revenues.
Article continues below advertisement
Peer group revenues in 2Q17
Compared with the full truckload spot rates, the LTL (less than truckload) spot rates have seen a consistent rise in 2017 so far. Pricing is a key factor for top-line growth, which benefited companies operating in the LTL space. Let's take a look into UPS's peers' recent revenues.
Old Dominion Freight Line (ODFL) reported an 11.3% rise in revenues to ~$840.0 million.
FedEx's (FDX) fiscal 4Q17 revenues grew 21.2%, driven by the TNT Express consolidation.
Among the other major players in the LTL trucking (XLI) space, YRC Worldwide (YRCW) and XPO Logistics (XPO) are slated to report their 2Q17 earnings on August 3, 2017.
UPS's revenue outlook
United Parcel Service maintained its US GDP growth forecast for the rest of 2017. The company expects to see consolidating retail and industrial production at a pace slower than forecast at the beginning of 2017. 
According to UPS, the European markets should be stronger in 2H17. In Asia, the company anticipates Chinese markets to grow more than previously forecast.
For fiscal 2017, UPS projects its overall revenues to grow 5%–7%, surpassing its historical norms. The company aims to bank on the e-commerce boom supported by revisions in base pricing to fuel revenue growth.
In the next article, we'll look at the 2Q17 results and outlook for UPS's Domestic Business segment.