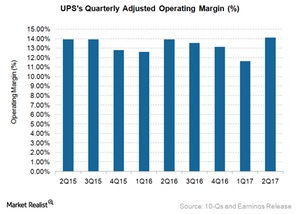 Could United Parcel Service See Its Operating Margin Grow in 2017?
By Samuel Prince

Aug. 2 2017, Updated 10:38 a.m. ET
UPS's operating margins
Previously, we discussed the Supply Chain and Freight segment growth for United Parcel Service (UPS). In this part, we'll consider the company's 2Q17 operating margins. In 2Q17, UPS's operating margin expanded 20 basis points to 14.1% from 13.9% in 2Q16.
In 2Q17, United Parcel Service's operating profit rose 8.7% to $2.2 billion from $2.0 billion in 2Q16.
The company's e-commerce customers drove its B2C and B2B shipments higher in 2Q17. Along with solid base rates and increased fuel surcharges, this trend offset product mix changes. The net result was a slight improvement in overall operating margins in 2Q17.
Article continues below advertisement
Segmental operating profits
We'll start with the largest segment. The US Domestic segment reported an expansion of 60 basis points in its operating margins to 14.3% in 2Q17 from 13.7% in 2Q16. The segmental operating profit rose 13% in 2Q17.
This margin expansion was a result of the favorable impact of its worker's compensation costs and the robust growth in shipments. These factors were partially offset by increased fuel expenses and cost penalties related to 20 projects under construction.
The International Package segment's operating margins declined 1.5% in 2Q17 to 18.4%. The segment's operating profit fell 5% to $583.0 million in 2Q17. After adjusting for currency, its segmental operating income rose ~14%.
United Parcel Service saw a 0.8% margin improvement in the Supply Chain and Freight segment in 2Q17. The segmental operating margins expanded 24% due to improved pricing, backed by increased buy and sell rate spreads.
Peer group margins
If we compare the operating margins of United Parcel Service with its peers, it clearly leads the pack. Given the scale of UPS's operations, the company's nearly 15% operating margins are higher than its peers FedEx (FDX), YRC Worldwide (YRCW), and XPO Logistics (XPO). 
However, UPS's operating margins lag behind less than truckload (XLI) operator Old Dominion Freight Line (ODFL), which has a 16%–20% operating margin range.
Management outlook
United Parcel Service targets operating income growth of 5%–9% in the US Domestic segment. UPS anticipates an operating profit of 8%–12% in the International Package segment. The company foresees a 3% margin expansion in the International segment in the long run. 
Rising crude oil prices may act as a deterrent to UPS's margins going forward. Plus, currency-related headwinds could impact the International segment's operating margins in 2H17.
Finally, we'll see what analysts recommend for UPS after its 2Q17 earnings release.