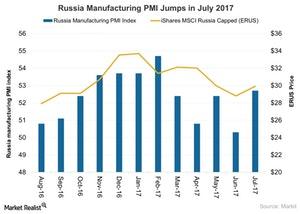 Could New Sanctions Impact Russia's Manufacturing Activity?
Improvement in operating conditions in Russia
In July 2017, operating conditions in Russia improved at the fastest pace since January 2017. The Russian PMI (purchasing managers' index) increased to 52.7 from 50.3 in June 2017. New orders and output saw the strongest expansion, each reaching a six-month high.
The surprising improvement in the manufacturing sector comes at the time of increased US economic sanctions on Russia. The sanctions are likely to impact energy companies (XLE) (VDE), and not only in Russia (OGZPY) (LUKOY), but also in European Union (JNPR) (BASFY) and the United States (XOM) (CVX) (SPY). Many European energy companies have joint ventures with Russian companies in oil exploration and distribution.
Article continues below advertisement
Business conditions in Russia in July 2017
The strong expansion in output and new orders in July 2017 helped improve manufacturing activity in Russia. Output continued to increase in July 2017, reaching one year of growth. The increased output was mainly due to higher client demand and a rise in new orders.
New orders and employment
In July 2017, new orders saw the strongest expansion in six months. Increased orders from new clients boosted activity. Employment in the manufacturing sector contracted for a fifth month.
Article continues below advertisement
Price pressures
Price pressures remained soft as input prices increased at a slower rate and eased to a four-month low in July 2017. Output prices also increased, though at a weaker pace.
Expectations
The outlook for the next year remains positive, though weaker than the month prior. New product launches, increased investments, and high demand from new clients boosted confidence in the manufacturing sector. Optimism within the manufacturing sector remains low with the new round of economic sanctions on Russia (ERUS). Let's look at manufacturing activity in Mexico in our next article.