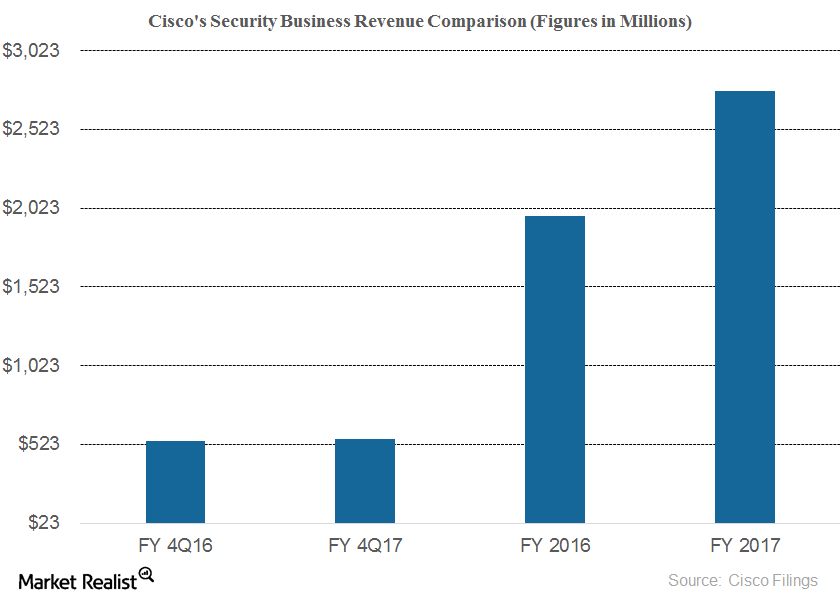 Cisco Acquires Observable Networks to Expand Its Cloud Security
Acquisition of Observable Networks
To diversify its security (HACK) portfolio, Cisco Systems (CSCO) announced that it had completed the acquisition of Observable Networks. This acquisition extends Cisco's Stealth Watch Solution to the cloud and provides behavioral analytics and comprehensive visibility to its customers.
Cisco stated that the Observable Networks platform expands its cloud security capabilities. It would provide security support and compliance for applications deployed on public cloud platforms such as Amazon Web Services (AMZN) and Microsoft (MSFT) Azure.
Article continues below advertisement
IoT threat defense solution
Cisco Systems also launched its IoT (Internet of Things) threat defense solution, which utilizes scalable security architecture. This solution defends devices in several industry verticals such as connected healthcare, manufacturing, and electric utilities. The IoT security space provides an opportunity for Cisco, as IoT-related cyberattacks rose 90% in 2016.
Launch of Network Intuitive
In late June, Cisco launched the Network Intuitive initiative. According to Cisco's CEO, Chuck Robbins, "The Network Intuitive is a new intent-based network that creates a fully integrated intuitive system that is designed to anticipate actions, stop security threats in their tracks and continue to evolve and learn over time."
Technologies such as machine learning and analytics would be used to operate and define this network. This solution is designed to help enterprises detect threats in encrypted traffic with greater accuracy by employing Cisco's encrypted traffic analytics and cyber intelligence unit.