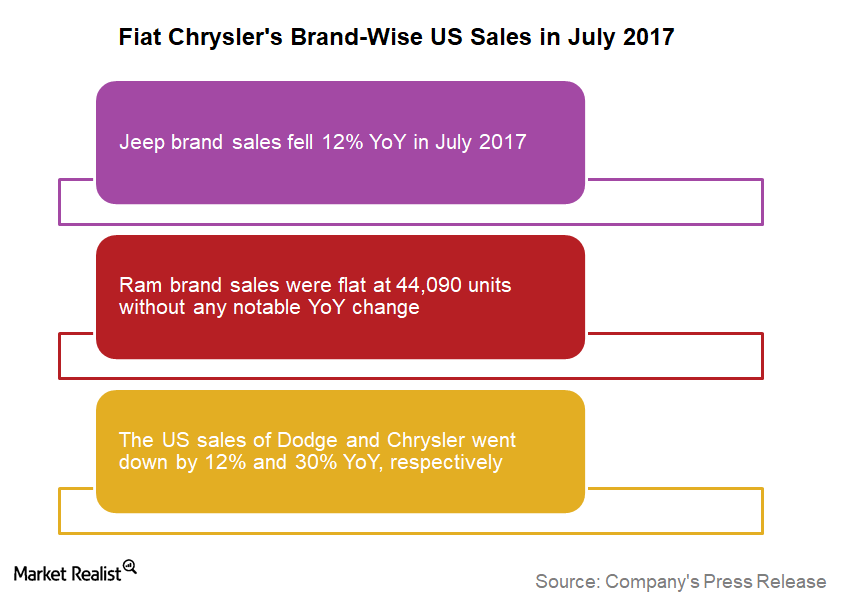 How Were Chrysler's US Sales in July 2017?
FCAU's brand-wise US sales
In July 2017, Fiat Chrysler Automobiles (FCAU) sold about 1,225 car units of its luxury brand, Alfa Romeo, against just 43 cars sold in July last year. This increase could be attributed to high US demand for the company's recently launched Alfa Romeo Giulia car model. According to Autodata, Fiat Chrysler's July month US car and truck segment sales fell 23.3% and 4.2% YoY (year-over-year), respectively. Let's find out how these lower truck sales could affect FCAU's 3Q profit margins.
Article continues below advertisement
Weakness in truck sales continued
For Fiat Chrysler, luxury vehicles such as Alfa Romeo and heavyweight vehicles including trucks and UVs (utility vehicles) typically generate higher profit margins. Therefore, an increase in Fiat Chrysler's July Alfa Romeo sales could have a positive impact, but a sharp fall in July truck sales could badly affect its 3Q profit margins.
The company's weak car sales in the first seven of 2017 could be a result of US industry-wide lower demand for small cars as compared to trucks.
Fiat Chrysler's profit margins are already lower than other mainstream automakers (IYK) including Ford (F), General Motors (GM), and Toyota (TM). Therefore, a consistent decline in its truck sales could be worrisome for FCAU.
Dismal Jeep and Ram brand sales
In July 2017, Fiat Chrysler's Jeep brand sales remained weak for the sixth consecutive month while Ram brand sales were flat YoY. The company sold about 69,351 Jeep brand vehicles during the month, down 12.0% YoY and 44,090 units of Ram brand vehicles in July.
Previously in June 2017, FCAU's Jeep brand vehicle sales were at 73,153 vehicle units with an 11.0% YoY decrease.
Jeep and Ram are two of the key brands in Fiat Chrysler's US product lineup. These two brands help the company in maintaining a strong position in the US pickup truck segment.
In the next part, we'll learn about Toyota's US auto sales in July 2017.