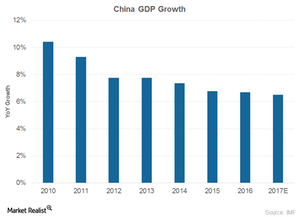 China's Economy: A Slowdown in Second Half of 2017?
By Ally Schmidt

Sep. 4 2017, Updated 10:36 a.m. ET
China, the key market
The Macao region relies heavily on Mainland China, which accounts for about 67.0% of its visitors, and VIP[1. very important person] gamers from China and its neighboring countries. A weakness in the Chinese economy could adversely affect the spending capacity of the Chinese people, which, in turn, could lead to a fall in the number of visitors visiting the Macao region. The devaluation of the yuan could also add to Macao's woes since it makes everything more expensive in the region.
Article continues below advertisement
Chinese GDP rises
China's GDP rose 6.9% YoY (year-over-year) for the first and second quarters of 2017. For both quarters, analysts' had estimated GDP growth of 6.8% YoY. It was the fastest growth since the third quarter of 2015.
Outlook
So far, China's GDP growth is on track with the government's target of 6.5% GDP growth in 2017. It is also higher than 6.7% GDP growth in 2016. However, most economists believe that it could be difficult to sustain this high rate of GDP growth, especially since the government has now shifted its focus to reduce its huge debt. As a result, government stimulus, loose monetary policy, and rapid credit growth, which helped economic growth so far, could vanish.
Many economists also doubt the reliability and accuracy of government data, which is why economists are often seen tracking individual indicators. Three of these indicators have shown a slowdown in July, reinforcing economists' belief in a slowdown for the second half of 2017.
YTD as of July 2017, fixed investment rose 8.3% against an estimate of 8.6%. Industrial overcapacity is also beginning to show problems. Industrial output grew 6.4% YoY against estimates of a 7.1% YoY growth and June's 7.6% YoY growth. Retail sales growth also slowed down to 10.4% YoY against an estimate of 10.8% YoY growth and an 11% YoY growth seen in June.
Investors can gain exposure to casino stocks by investing in the PowerShares Dynamic Leisure and Entertainment ETF (PEJ), which invests 14.7% of its portfolio in casinos, including 5.4% in MGM Resorts (MGM) and 3.2% in Wynn Resorts (WYNN). However, it has no holdings in Las Vegas Sands (LVS) or Melco Crown Entertainment (MPEL).