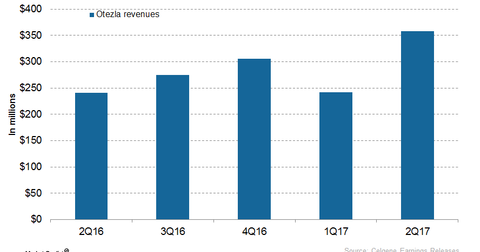 Celgene's Otezla Witnessed High Revenue Growth in 2Q17
By Daniel Collins

Updated
Otezla revenue trends
In 2Q17, Celgene's (CELG) Otezla generated revenues of around $358 million, which reflected ~49% growth on a year-over-year (or YoY) basis and ~48% growth on a quarter-over-quarter basis. An increase in adoption of Otezla therapy and improved market access contributed to the high revenue growth in 2Q17.
In the US, Otezla generated revenues of ~$306 million in 2Q17, which reflected 41% growth YoY and ~54% growth quarter-over-quarter. In 2Q17, outside the US, Otezla generated revenues of around $52 million compared to $43 million in 1Q17.
Article continues below advertisement
After the recent launch of Otezla in France and Japan, the uptake in these two countries surpassed the competitive benchmarks. In France, Celgene's Otezla achieved a differentiated access position, which enables physicians to prescribe Otezla both within and beyond the hospital setting. In Japan, Otezla has been approved for prescription by dermatologists, unlike biologics.
The growth in sales of Celgene's Otezla could boost the share price of the Vanguard Growth ETF (VUG). Celgene comprises ~1.0% of VUG's total portfolio holdings.
The chart above represents the revenue trajectory of Celgene's Otezla from 2Q16 to 2Q17. To learn more about Otezla, please read Otezla Could Significantly Drive Celgene's Revenue Growth.
Future growth prospects
Celgene is carrying out various clinical trials for label expansion of Otezla. In March 2017, Celgene presented the results from Phase 4 UNVEIL trial. This trial was conducted to evaluate the safety and efficacy of Otezla for the treatment of individuals with moderate plaque psoriasis with a body surface area (or BSA) of 5%–10%.
In the UNVEIL trial, at week 16, the patients receiving Otezla 30 mg twice daily demonstrated substantially greater progress in mean percentage change from baseline in the product of static Physician's Global Assessment (or sPGA) and BSA (sPGA×BSA) compared to patients on a placebo.
Further, 35.1% of the patients treated with Otezla achieved a 75.0% or greater progress in the PGA×BSA score compared to 12.3% of patients who were treated with a placebo.
Celgene is also conducting Phase 2 and Phase 3 trials with Otezla for the treatment of ulcerative colitis and Behcet's disease, respectively.
Otezla faces stiff competition from Johnson & Johnson's (JNJ) Stelara, Remicade, Simponi Amgen's (AMGN) Enbrel, and AbbVie's (ABBV) Humira.