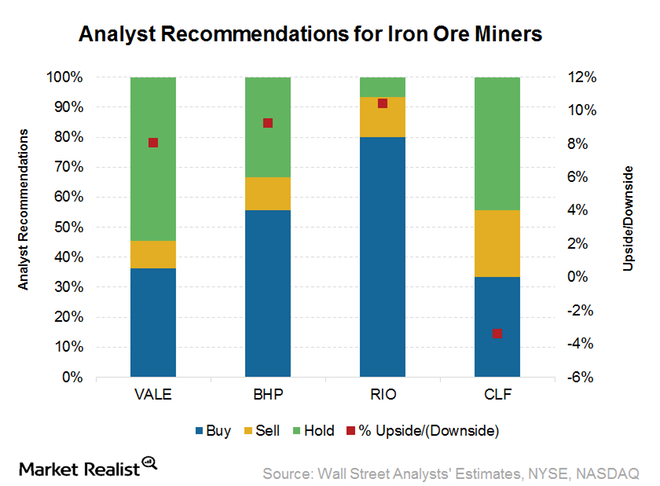 BHP Billiton's Fiscal 2017 Earnings: What Do Analysts Think?
BHP's consensus rating
Of the 18 analysts covering BHP Billiton (BHP), ten of them have issued a "buy" rating. Six of them have recommended a "hold," and two have recommended a "sell." BHP has a consensus target price of $38.90 compared to the current market price of $41.80.
Article continues below advertisement
Citigroup and Macquarie
Citigroup (C) downgraded BHP to "neutral' in a research report released on August 23, 2017. However, it slightly increased BHP's target price from 13.5 pounds to 14.0 pounds. Earlier, on December 5, 2016, it upgraded BHP's rating from a "sell" to a "buy." While Citigroup wasn't bullish about the future prospects for iron ore due to the fundamental rebalancing needed, it has turned bullish on other commodities.
Macquarie has a price target of $30 for BHP stock. It believes that BHP's US Onshore assets are driving negative sentiment for the company. It believes that exiting this business would be a "key positive" for the stock and would free up cash for the company that could be utilized for dividends and buybacks.
Other rating changes
Deutsche Bank (DB) reaffirmed its "buy" rating for BHP stock on August 20, 2017. The firm has a target price for the stock of 16.0 pounds.
Goldman Sachs (GS) reiterated its "sell" rating on BHP stock on August 22, 2017. It has a target price of 10.8 pounds for the stock. It downgraded BHP from "neutral" to "sell" on April 25, 2017, and lowered the target price by 21.0%.
Morgan Stanley has maintained its "overweight" rating on BHP. However, it increased its target price from 10.5 pounds to 14.1 pounds.
UBS reaffirmed its "buy" rating for BHP and maintained its target price of 13.8 pounds for the stock.