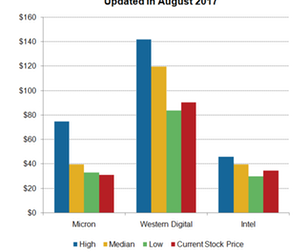 Behind Micron's Analyst Price Target
By Puja Tayal

Updated
MU's analyst price target  
Analysts calculate the price target of a stock by applying a price ratio to their estimates for the company's earnings and cash flows for the next few quarters. Analysts can use the price-to-earnings, price-to-sales, or price-to-free-cash-flow multiples, depending on the company's profile, and they tend to change their price targets frequently, based on the most recent events in the company.
Wall Street analysts have raised their consensus price target for Micron Technology (MU) stock from $38 in June 2017 to $40 in August 2017. However, the bullish price target was raised significantly from $60 in June 2017 to $75 in August 2017. Western Digital's (WDC) and Intel's (INTC) consensus and bullish price targets remained unchanged in August 2017.
Article continues below advertisement
The Street
The Street co-founder Jim Cramer stated that Micron's stock rally is currently capped at $32, as investors believe that the company may not be able to sustain its strong earnings. If the stock breaks this cap, it could trigger a giant rally, and so analysts have increased the bullish price target significantly.
There's also a possibility that Micron's stock price could grow as customers like Hewlett-Packard (HPQ) and Cisco Systems (CSCO) expect rising DRAM (dynamic random access memory) prices on the horizon.
Overall, it appears that investors are cautious, while analysts are optimistic about Micron stock.