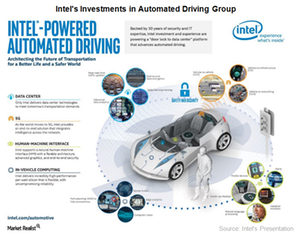 Behind Intel's Strategy for Self-Driving Cars
By Puja Tayal

Updated
Intel eyes self-driving platform
Intel's (INTC) transition to the data-centric company has brought radical changes to its age-old technology model. The company is now looking to leverage its diverse product portfolio to develop a cloud-to-car platform that makes autonomous driving a reality.
In the self-driving space, Intel is not looking to develop a self-driving car like Google (GOOG). Instead, it aims to develop a self-driving platform that it can sell to automakers like Ford Motor (F) and General Motors (GM). It's also looking to provide automakers Big Data and technology solutions such as custom software, processor, sensors, AI (artificial intelligence), connectivity, and cloud computing platforms.
Here, Intel's biggest rival would be Nvidia (NVDA), which is currently leading the autonomous vehicle market with its DRIVE PX-2 platform and CUDA software.
Article continues below advertisement
Role of Mobileye
In August 2017, Intel completed the acquisition of Mobileye to speed up its efforts in the automotive space. Mobileye is a leader in vision processors for ADAS (advanced driver assistance system), supplying chips to over 15 million cars with front-facing cameras.
Mobileye's technology can interpret camera images to spot any hurdles on the road. The company's software pools images into digital road maps that inform other vehicles of road conditions such as traffic and potholes. Its EyeQ5 processor runs software that helps it react to driving situations, pedestrians, and other vehicles.
Intel's capability in autonomous driving space
While Mobileye's takes care of mapping, sensing, and computer vision, Intel takes care of connectivity and cloud computing. Audi's first Level-3 autonomous car model included a switch based on Altera's technology. This switch was placed between Nvidia's GPU (graphics processing unit) and Mobileye's sensor fusion processor.
WindRiver's VXWorks operating system was used in the electronic control unit to handle Audi's safety critical functions. Intel acquired Altera, WindRiver, and Mobileye to expand its solutions in autonomous driving.
Developing the autonomous car platform
Intel plans to spend $250 million over the next two years on the development of autonomous car platforms. Mobileye plans to sample its chips for autonomous highway driving with General Motors, BMW, and Volkswagen in 2018. Intel and Mobileye expect to start selling fully developed self-driving solutions to auto OEMs (original equipment manufacturers) by 2019.
As the two companies look to build a system and not a car, they have to ensure that the system works across various geographies. Different regions have different driving styles, road conditions, and road signs, and the platform has to be functional in all these regions. Hence, Intel announced that it would test 100 cars with level-4 autonomy in the United States, Israel, and Europe. The first test cars are expected to hit the road by the end of 2017.
Next, we'll discuss whether Intel can actually succeed in its autonomous car initiative.