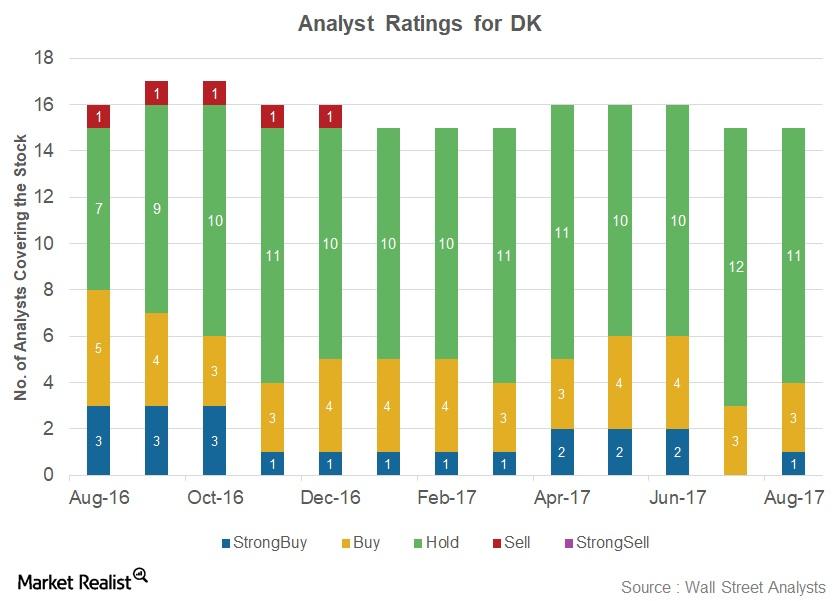 Behind Delek US Holdings' Scant 'Buy' Ratings
By Maitali Ramkumar

Dec. 4 2020, Updated 10:42 a.m. ET
Series overview
In this series, we've ranked these American refiners based on the number of "buy" ratings from Wall Street analysts: Marathon Petroleum (MPC), Andeavor (ANDV), Valero Energy (VLO), Phillips 66 (PSX), HollyFrontier (HFC), and PBF Energy (PBF). Now we'll look at Delek US Holdings (DK), the refiner with the lowest "buy" ratings.
Article continues below advertisement
Analyst ratings for Delek
The above graph shows that four (27%) of the 15 analysts covering DK have rated it a "buy" so far in August 2017. Another 11 analysts (73%) have rated it a "hold." In August 2016, DK had more "buy" ratings, fewer "hold" ratings, and one "sell" rating.
DK's mean price target of $28 per share implies a ~31% gain from its current level.
DK's peers at the lower end of the spectrum in terms of "buy" ratings include PSX, HFC, and PBF. PSX, HFC, and PBF have been rated a "buy" by 32%, 29%, and 29% of analysts, respectively.
Why so few "buy" ratings for DK?
DK recently closed its acquisition of Alon USA Energy, doubling the size of the company. DK expects to achieve annual synergies of $95 million in 2018 from the acquisition.
Alon's logistics assets could also be dropped down to Delek Logistics Partners (DKL), strengthening DK's midstream MLP (master limited partnership). With the acquisition, DK has expanded its footprint in the Permian Basin. It has provided 200,000 bpd (barrels per day) of the crude access system in the Permian, and so DK is now all set to grow.
But DK's debt levels have also increased steeply. The combined total debt of its entity is expected to rise from $823 million before the Alon acquisition to $1388 million afterward. The acquisition closed on July 1, and so the combined balance sheet will be mostly available in the 3Q17 earnings release.
The steep rise in DK's leverage is likely causing analysts to assign fewer "buy" ratings. DK's ratings could improve if it successfully integrates Alon and achieves its targeted synergies and earnings growth and can keep its debt at manageable levels.
For more on refiners' financial and market performances, you can refer to Market Realist's series Post-2Q17 Standings: Comparing MPC, VLO, ANDV, and PSX.