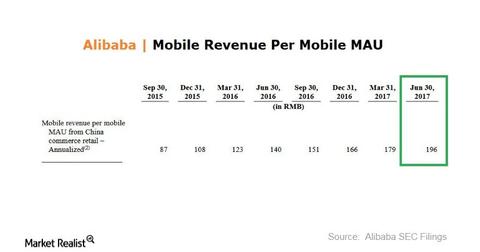 Assessing the Value of Alibaba's Mobile Audience
By Neha Gupta

Updated
Mobile audience up 24%
As a growing number of Chinese consumers and, in particular, Alibaba (BABA) customers conduct transactions on mobile, it is important to explore mobile's value to Alibaba.
Alibaba noted that it had 529 million mobile MAUs (monthly active users) at the end of fiscal 1Q18,[1. fiscal 1Q18 ended June 2017] up 4.0% quarter-over-quarter and up 24% year-over-year.
Article continues below advertisement
e-Commerce is shifting to mobile
The expansion of Alibaba's mobile audience tracks the shift to mobile commerce. Worldwide, e-commerce operators like Amazon (AMZN), eBay (EBAY), and JD.com (JD) are seeing a growing portion of their sales stream via mobile.
According to eMarketer, retail mobile commerce sales represented 38.1% of China's (MCHI) e-commerce sales in 2014. This year, the mobile portion of the country's e-commerce sales is expected to rise to 61.0%.
Alibaba tapping more value from its mobile audience
Alibaba (BABA) has been able to pick up gains in the rise of mobile commerce in China. The company has seen its revenue per mobile user increase steadily in the last few years. In fiscal 1Q18, the company reported mobile revenue per mobile MAU of 196 yuan (or $29), up from 140 yuan a year earlier, as shown in the chart above.
Alibaba calculates mobile revenue per mobile MAU by dividing China's commerce retail sales for the trailing 12 months by mobile MAUs for the last month of that period.