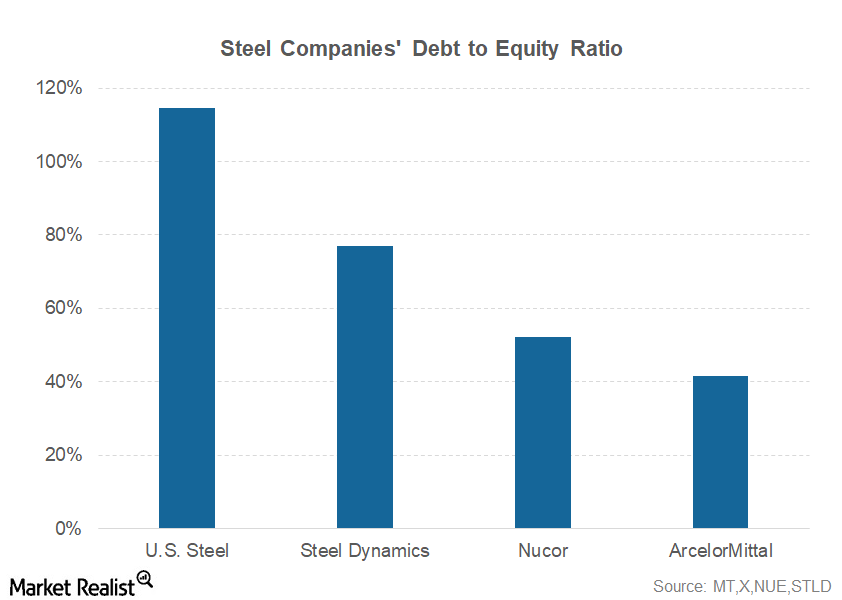 ArcelorMittal's Leverage Ratio versus Its Peers
By Mohit Oberoi, CFA

Aug. 22 2017, Updated 11:06 a.m. ET
Leverage ratios
In the previous part, we looked at steel companies' interest coverage ratios. In this part of the series, we'll look at their DE (debt-to-equity) ratios. We should remember that the DE ratio is a balance sheet metric that tells us about a company's capital structure. The ratio tells us how much debt a company has on its balance sheet compared to shareholder equity.
Article continues below advertisement
Comparative analysis
U.S. Steel (X) has a DE ratio of 115% as of June 30, 2017. AK Steel (AKS) has a negative net worth due to accumulated losses. Among other steel companies (CLF), Nucor (NUE) has a debt-to-capital ratio of 52%, while Steel Dynamics' DE ratio is 77%. ArcelorMittal (MT) has the lowest DE ratio of 42% in our coverage of steel stocks.
Understanding these numbers
A lower DE ratio means that the company is using less debt compared to equity. However, we should remember that it's basically a balance sheet metric and not very useful in determining a company's current financial position. For instance, AK Steel has negative shareholder equity due to legacy issues, while ArcelorMittal's shareholder equity rose last year after its raised ~$3 billion through a rights issue. Other steel companies like U.S. Steel also raised cash by selling shares last year.
A better indicator to measure a company's financial position is its net debt-to-market capitalization ratio. The ratio also takes into account the current market capitalization and could help us understand a company's leverage position.
In the next part, we'll discuss how different steel companies' net debt looks compared to their market capitalizations.