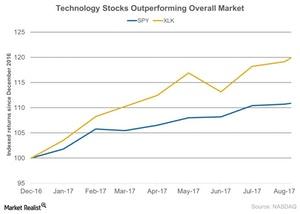 Ann Winblad: Why Technology Stocks Will Likely Maintain Momentum
By Mary Sadler

Updated
Big technology stocks have the momentum to reach new highs in 2017
In a recent interview with Wall Street Week on July 28, 2017, Ann Winblad, a partner at Hummer Winblad Venture Partners, shared her views on the technology sector. She also shared her views on the performance of the big five technology stocks and their valuations so far in 2017. She also discussed investments by these companies that could spur even more growth.
Article continues below advertisement
Technology stock performance in 2017
Markets (QQQ) (IVV) are rallying in 2017 with the technology sector (VGT) majorly driving the performance. The Technology Select Sector SPDR ETF (XLK), which tracks technology stocks, has posted gains of about 20% so far in 2017, as of August 8. The SPDR S&P 500 ETF (SPY), which tracks the most popular US index, the S&P 500, gained about 11% in the same period.
The top-weighted stocks in the XLK, a popular technology ETF, include Apple, Microsoft, Facebook, and Alphabet. Together they account for 43.5% of the 73-constituent fund.
Let's look at the technology stock performance as compared to the overall market in the below chart.
Valuations of technology companies
The technology sector (VGT) is currently outperforming the overall market. The technology sector has been driven by five big prominent technology companies: Facebook (FB), Amazon (AMZN), Microsoft (MSFT), Alphabet (GOOG), and Apple (AAPL).
Collectively, these technology companies have market valuations of more than $3 trillion as of July 2017. The collective market capitalization of these big five companies has increased by about $628,068 million, a 27% gain so far in 2017 as of August 8, 2017. In contrast, the S&P 500 has gained about 11% so far in 2017 as of August 8, 2017. The trailing price-to-earnings ratios for the big five remain above or close to their industry and market average considering their growth prospects. Usually, if a company has a PE (price-to-earnings) higher than its industry or market average, it could mean that the market is expecting good prospects over the next few months or years.
Why technology stocks look promising
According to Winblad, the valuations of these big five technology stocks are high, but they show tremendous potential with their size and continuous innovation. These companies dominate the multiple and continuous innovation cycle in today's world. Earlier, companies after an innovation cycle were left in the dust if they didn't continue to innovate and reinvent themselves. The big five companies are continuously innovating to remain in the market or lead the market. These companies are expected to grow both organically and inorganically by investing in innovations and new business both big and small.
We'll look at the investments by these companies in our next article.