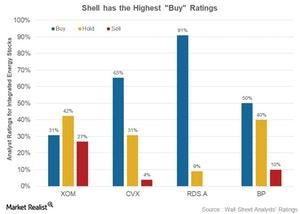 Analyst Ratings for Integrated Energy Stocks XOM, CVX, RDS.A, BP
By Maitali Ramkumar

Updated
Analyst ratings for integrated energy stocks
ExxonMobil (XOM), Chevron (CVX), Royal Dutch Shell (RDS.A), and BP (BP) are covered by 26, 26, 11, and ten analysts, respectively. Of those, 31.0%, 65.0%, 91.0%, and 50.0% have rated XOM, CVX, RDS.A, and BP a "buy," respectively.
Article continues below advertisement
Shell and Chevron: More 'buy' ratings
Shell has received the most "buy" ratings among our integrated energy stocks in this series. Its mean target price is $63 per share, which implies a ~14.0% gain from its current level. Shell's high "buy" ratings are likely due to its strategy to cut capex (capital expenditure), reduce costs, and divest non-competitive assets in order to grow its earnings. Also, the acquisition of the BG Group is expected to boost its earnings due to operational synergies. Shell also plans to strengthen its financials by prioritizing debt repayment. Its leverage has risen sharply since the BG Group acquisition. But now it's tapering down. We'll look at all these integrated energy companies' leverages later in the series.
Chevron also has a lot of "buy" ratings since its capital-intensive projects are now on the brink of producing results. Chevron is also strong with regard to leverage, giving the company financial strength and flexibility. Its mean target price is $117 per share, implying a ~7.0% rise from the current level.
Article continues below advertisement
BP's rising 'buy' ratings
BP has recently seen an increase in its "buy" ratings. A few months ago, it had the most "hold" ratings among our four stocks, but now it has a majority of "buy" ratings. BP has a robust strategy in place and could witness a better financial position in the future. Its efforts to improve its financials, even in a lower oil price scenario, will likely be positive for the company. So analyst ratings are thus improving, most likely due to BP's robust financial framework and a likely earnings growth in the offing. For more on BP's financial framework, you can refer to Is BP Ready for Lower Oil Prices?
BP's mean target price stands at $38 per share, implying ~10.0% rise from the current level.
ExxonMobil's high 'hold' ratings
ExxonMobil (XOM) has a lot of "hold" ratings. Its expansion activities have spread across its business segments, making its earnings model integrated and shielding it partially from oil price volatility. The inorganic and organic growth strategy in its upstream segment will possibly expand XOM's upstream portfolio. Its continuing expansion and modernization activities in the downstream (refining and chemicals) segment will presumably enhance earnings from the downstream segment.
But most analyst ratings for ExxonMobil are still a "hold" or a "sell," probably because of its higher valuation compared to its peers. The market is most likely already factoring in XOM's expected growth and strong financials. ExxonMobil's mean target price is $83 per share, implying a ~6.0% gain from the current level, the lowest among its peers in this series.