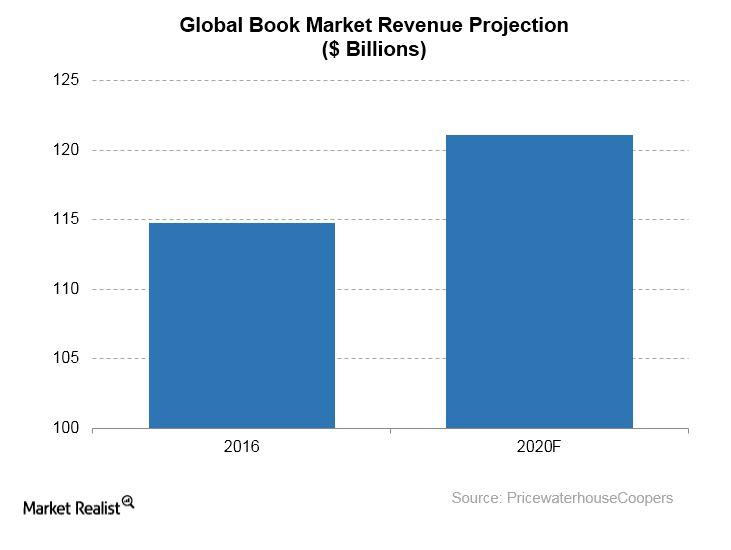 Amazon Expands Its Book Business with Brick-and-Mortar Stores
Amazon eyeing a larger share of the book market
Amazon's (AMZN) decision to ask booksellers to shorten their book delivery times by about 40% seem to be part of the company's efforts to increase its share of the book market and drive more revenue growth. Amazon argues that customers are more likely to purchase a product if it has a shorter delivery time.
Although various segments of the book market are battling unique challenges, the overall book market is expected to continue growing. The worldwide book market is forecast to grow consistently over the next five years.
Article continues below advertisement
1.1% annual growth rate
PricewaterhouseCoopers forecasts that total book revenues could grow at an average annual rate of 1.1% between 2016 and 2021. As such, the firm projects that the book market could expand to $121.1 billion by 2021 from $114.8 billion in 2016. The chart above illustrates the global book market's growth projection.
Looking at the above projection, Amazon could generate more retail sales growth by increasing its share of the book market. Retail is Amazon's largest source of revenue. However, it is a highly competitive industry where Amazon is battling growing competitive threats from eBay (EBAY), Walmart (WMT), Target (TGT), and Alibaba (BABA).
Company-operated bookstores
Another effort by Amazon to increase its share of the book market to grow its revenues is the opening of its physical bookstores. The company recently opened several bookstores in strategic locations in the US (SPY), including New York City.