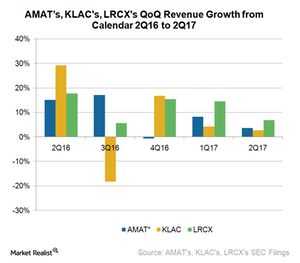 What AMAT's Sequential Revenue Growth Indicates
AMAT's sequential revenue growth
Applied Materials (AMAT) witnessed strong 45% YoY (year-over-year) growth in calendar 1Q17 while the overall SME (semiconductor manufacturing equipment) market witnessed growth of 110% YoY, according to SEMI figures. On a sequential basis, AMAT's revenues grew 8% in 1Q17. The overall SME market's revenues grew 48%, and Lam Research's (LRCX) revenues grew 14%.
AMAT's slow sequential growth could be due to three factors—poor product mix, reduction in market share, or weakness in consumer demand. The SEMI figures show there is strong demand for SME in the market. This leaves us with only two possibilities—product mix and market share.
Article continues below advertisement
Is AMAT losing market share?
Statistics show that Applied Materials (AMAT) probably lost some share in the deposition and etch equipment sector for 3D NAND. AMAT competes with LRCX in the deposition and etch equipment sector for 3D NAND. In 1Q17, LRCX posted memory revenues of $1.6 billion compared to AMAT's memory revenues of $1.3 billion.
South Korea's Samsung (SSNLF) and SK Hynix and the United States' Micron Technology (MU) are the top three memory customers for SME vendors. Applied Materials lost share in this market to Korean suppliers Eugene Technology, Wonik, and TES, which reported sequential growth of 126.7%, 64.7%, and 12.1%, respectively, in 1Q17.
Applied Materials competes with Tokyo Electron (TEL) in the etch, LPCVD (low-pressure chemical vapor deposition), and RTP (rapid thermal processing) sectors. In 1Q17, AMAT's display revenues fell 7.3% sequentially whereas TEL's display revenues rose 147% sequentially. AMAT stated that its display revenues fell as it was replacing its failed PECVD (plasma-enhanced chemical vapor deposition) encapsulation systems with roll-to-roll technology. However, this gave TEL a chance to gain some share in the display market.
Article continues below advertisement
AMAT's exposure to the Asia-Pacific region
Applied Materials (AMAT) is facing tough competition from local SME suppliers in the APAC (Asia-Pacific) region, which contributes almost 84% to the company's revenues. This region is highly volatile, so it is difficult to project AMAT's future sales. If the demand for semiconductors or display technologies falls in the APAC region, AMAT's earnings would be significantly impacted due to its high exposure.
Moreover, a company's order backlog is not a highly reliable method to project future sales, as it does not guarantee sales. If customers cancel their orders or there is a disturbance in operations, revenue projections would fluctuate significantly. If the company's actual sales are lower than expectations, its stock price would be negatively impacted.
The high exposure to the APAC region increases Applied Materials' risk but also brings significant growth. In fiscal 2Q17, AMAT's revenues from Japan (EWJ) and Korea grew over 40% sequentially, which more than offset a 22% sequential decline from Taiwan.
Next, we'll look at the company's profitability.