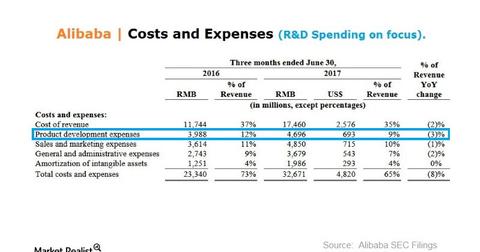 Alibaba: Tracing the Impact of Increased Innovation
By Neha Gupta

Updated
Looking to rural China for e-commerce growth
Alibaba (BABA) is betting on innovation to drive growth and revenue diversification. Although the company's strong grip on China's (MCHI) e-commerce sector has yielded tremendous gains, reliance on e-commerce has its risks.
For example, the market in China is attracting more players at a time when e-commerce penetration in many of the country's large urban areas has hit its saturation level, thus limiting growth. While Alibaba and JD.com (JD) are racing to expand their market share in rural China, there are a lot of challenges in this rural push, and the benefits may not be immediate.
Article continues below advertisement
Innovation investment yields Tmall Genie
Alibaba (BABA) is investing in innovation to unlock new revenue streams aside from its Core Commerce segment. Innovations in AI (artificial intelligence) led Alibaba to develop a voice-controlled virtual assistant similar to Amazon's (AMZN) Echo. Alibaba calls its voice-controlled device Tmall Genie.
Alibaba is leveraging this device to fill multiple roles, such as supporting verbal shopping orders on its marketplaces, delivering digital content, and supporting digital payments.
While increasing innovation is leading to new products with transformative potential, innovation is also driving up Alibaba's costs. The company's R&D (research and development) budget has risen consistently over the last five quarters. The company's R&D spending for fiscal 1Q18 totaled 4.7 billion yuan (about $693 million), up from less than 4.0 billion yuan in fiscal 1Q17, as illustrated in the chart above.
Alibaba's innovation burden is easing
However, innovation cannot be said to be a burden on Alibaba. In fiscal 1Q18, Alibaba's Innovation Initiatives division posted 21% revenue growth to $95 million. Additionally, the company's R&D spending as a percentage of revenues also declined in the latest quarter. R&D consumed 9.0% of Alibaba's total revenues in fiscal 1Q18 compared to 12.0% in fiscal 1Q17.