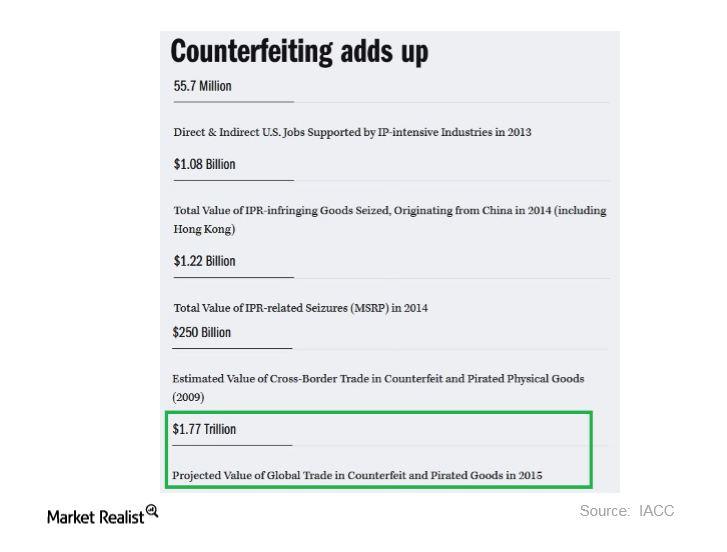 Alibaba, Counterfeit Goods, and Brand Rights
By Neha Gupta

Nov. 20 2020, Updated 12:21 p.m. ET
A bruised reputation
Alibaba (BABA) has lost customers and sustained a bruised reputation due to unscrupulous merchants who take advantage of its platforms to infringe on other merchants' intellectual property rights. In late 2016, the US (SPY) returned Alibaba's name to the list of notorious markets for counterfeit goods.
Some victims of counterfeiting have brought Alibaba to court because they felt the company wasn't doing enough to protect their consumer rights. In the highly competitive e-commerce industry, a good reputation is coveted and difficult to recover once compromised. A dented reputation would make it difficult for Alibaba to effectively compete with Amazon (AMZN), eBay (EBAY), JD.com (JD), or Walmart (WMT).
Article continues below advertisement
War on counterfeiters
To protect its reputation and bottom line, Alibaba has developed an initiative called Brand Rights to enhance its brand protection efforts. In August, the company held the second Brand Rights Holders Day in Beijing, China (MCHI), hosting 180 brand representatives.
During the Beijing event, Alibaba's brand protection team detailed the company's intellectual property protection initiatives. Alibaba has deployed technology to monitor its platform for counterfeit listings, which are taken down. Some of these sellers have been prosecuted.
Leveraging technology to battle counterfeits
According to Alibaba, leveraging technology to fight intellectual property violators is bearing fruit. The company said that in the first month since implementing this technology, it was able to take down listings for counterfeit goods within 24 hours after receiving complaints from the rights holders.
The escalation of the war on fake goods is also helping Alibaba repair relationships with its customers. Alibaba noted that French luxury brand Kering agreed to dismiss a lawsuit against it after the two companies agreed to cooperate to fight violators of Kering's brand identity. Kering's brands include Gucci, Alexander McQueen, Yves Saint Laurent, and Balenciaga.
Trade in counterfeit goods was estimated to reach ~$1.8 trillion in 2015, according to IACC (International Anti-Counterfeiting Coalition).