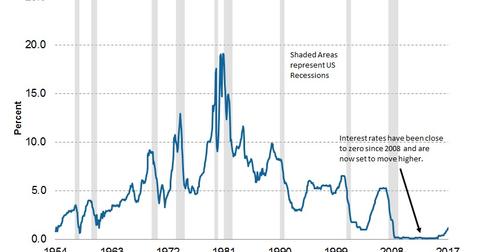 Why Alan Greenspan Sees a Bond Market Bubble
By Ricky Cove

Aug. 10 2017, Published 3:14 p.m. ET
Interest rates are too low for too long
In an interview on the Bloomberg channel on July 31, 2017, former Fed chair Alan Greenspan pointed out that interest rates in the United States and globally are too low and might have to be increased too quickly in the future. If that happens, he said the bond markets (BND) would likely be impacted in a negative way. He said the contagion would spread to all the financial markets, including equity (SPY) and currencies (UUP). His argument has some merit in the current scenario in which central banks around the world are expected to withdraw their current stimulus programs as global economies move closer to normal economic conditions.
Article continues below advertisement
Uncertainty about inflation to dominate the markets
The central banks are trying to prepare the markets for any monetary policy action with advance warnings. This arrangement seems to be working for the time being as global economies are growing at a slow, steady pace. Slower inflation (TIP) growth has been a limiting force on the central banks, but once inflation picks up, the central banks might have to act too soon in a short period of time. That would mean trouble for the interest rate–sensitive bond (IEF) markets. If interest rates rise too quickly, bond yields would also have to rise in response, which would push bond prices lower. A sudden fall in bond prices, especially for longer-term bonds (TLT), would create a turmoil in the bond markets.
Series overview
In this series, we'll analyze Greenspan's comments. We'll also talk about his views on equity and fixed income and find out whether his views are justified.