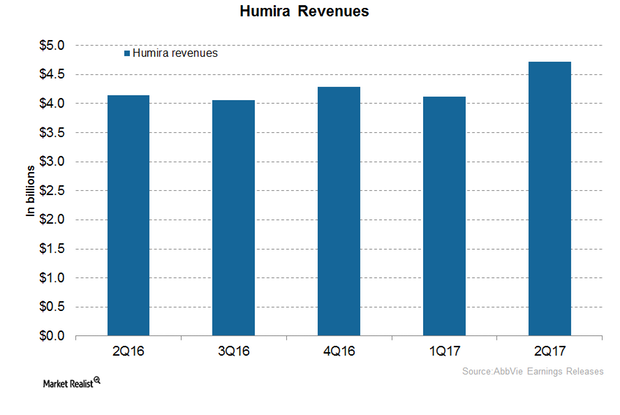 AbbVie's Humira Continues to Generate High Revenues
Humira's revenue trends
In 2Q17, AbbVie's (ABBV) Humira generated revenues of around $4.7 billion, which reflected a 14.0% rise YoY (year-over-year) and a 15.0% rise QoQ (quarter-over-quarter).
Humira contributed around ~68.0% of AbbVie's net revenues in 2Q17. Revenue growth for Humira could boost the share price of the Vanguard S&P 500 ETF (VOO). AbbVie makes up about ~0.53% of VOO's total portfolio holdings.
Article continues below advertisement
Recent filing for label expansion
In July 2017, the European Committee for Medicinal Products for Human Use (or CHMP) of the European Medicines Agency recommended a positive opinion for Humira for the treatment of pediatric patients above the age of two years with chronic non-infectious anterior uveitis who did not respond adequately to conventional therapy or for whom standard therapy is inadequate.
The University Hospitals Bristol NHS Foundation Trust and the Clinical Trials Research Centre at the University of Liverpool conducted the SYCAMORE trial for the evaluation of the safety and efficacy of Humira for the treatment of children and adolescents aged two years and above with juvenile idiopathic arthritis–associated uveitis. In the SYCAMORE trial, patients on a combination therapy of Humira and methotrexate demonstrated a significant delay in the time to treatment failure compared to patients on a placebo and methotrexate combination therapy. In the trial, only 27.0% of the patients in the Humira administered group had treatment failure compared to 60.0% of patients in the placebo group.
In June 2017, AbbVie also presented results from a 78-week post-marketing observational study demonstrating substantial progress in functional outcomes in individuals with moderate to severe rheumatoid arthritis who initiated treatment with Humira. AbbVie conducted the PASSION study for the evaluation of the post-marketing clinical outcomes. In the PASSION study, 42.8% of patients achieved a minimal clinically important difference (or MCID) in the Health Assessment Questionnaire Disability Index (or HAQ-DI) at week 78 from the baseline.
The promising data from the clinical trials will help in the market penetration of AbbVie's Humira. Humira could face stiff competition from Amgevita, a biosimilar of Humira developed by Amgen (AMGN), which received European Commission marketing authorization in March 2017. Humira also faces stiff competition from Pfizer's(PFE) Celebrex and Johnson & Johnson's (JNJ) Remicade.