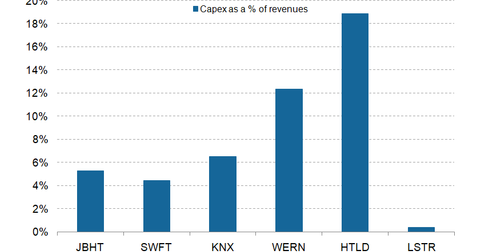 A Look at Truckload Carriers' Capex in 2Q17
By Samuel Prince

Updated
US truckload carriers' capex
In the previous article, we examined the operating cash flows of the truckload carriers under discussion. Here, we'll analyze their capital expenditure (or capex) in the first half of 2017.
The capex-to-revenues ratio calculates a trucking company's investment in its future revenues. A higher capex-to-revenues ratio reflects a carrier's business prospects. A road transportation company may also incur capex to replenish an aging fleet. Lower capex doesn't necessarily translate into lower business growth. The company might have other obligations to fulfill.
Article continues below advertisement
Cass Freight Index
The Cass Freight Index measures the North American freight volumes (XTN) and expenditures. It offers a good insight into freight trends as they relate to other supply chain and economic indicators. 
The July 2017 Cass Freight Index, which measures shipments, was 1.12—higher than the year before. Since January 1, 2017, the index has been on the higher side compared with the previous year's levels. However, it has fallen since May 2017's high of 1.17.
Inside truckload carriers' capex
The chart above shows that Heartland Express (HTLD) has the highest capex-to-revenues ratio among the discussed truckload carriers. The same ratio for the company was 18.9% in 2Q17 compared with 8.3% in 2Q16. HTLD has estimated ~$50.0 million in capex for 2017.
Landstar System (LSTR) has the lowest levels of capital expenditure in the peer group. This is mainly due to the asset-light nature of its business. The company purchases transportation services of independent truckload service providers. So, the ratio has no significance for LSTR.
Werner Enterprises (WERN) follows HTLD in terms of capital expenditure based on revenues. The company's capex-to-revenues ratio was 12.3% in 2Q17, and it was 31.9% in 2Q16.
Swift Transportation (SWFT) has the lowest capex-to-revenues ratio in our group of six companies. In 2Q17, this ratio was 4.4% compared with 3.5% in 2Q16. Given its acquisition of KNX, the former's capex appears low. What is notable is the sizable reduction in J.B. Hunt Transport's (JBHT) ratio in 2Q17. Its capex-to-revenues was 5.3% in 2Q17 compared with 11.2% in 2Q17.
In the next article, we'll turn to dividends.