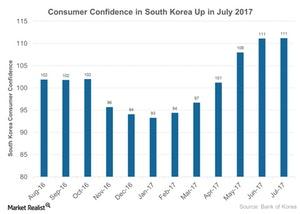 A Look at Consumer Confidence in South Korea in July 2017
By Mary Sadler

Aug. 1 2017, Updated 4:35 p.m. ET
Consumer confidence in South Korea
South Korea's (EWY) consumer confidence continued to remain steady at 111.2 in July 2017 compared to 111.1 in the previous month. Consumer confidence in South Korea (VWO) has soared since President Moon Jae-in's election victory in May 2017. The expectation of economic reforms and increased government spending since the election is helping the rally in consumer confidence in South Korea (EEM).
In the graph below, you can see what Korea's consumer confidence has looked like over the past year.
Article continues below advertisement
Consumer confidence in July 2017
Consumer confidence in South Korea (KOR) in July 2017 marked the sixth consecutive rise after seeing three months of a slump. Consumer confidence in July 2017 was at its highest since December 2010. The marginal increase was mainly due to a three-point advance in the component of current domestic economic conditions, which stood at 96. The current living standards and future living standards rose one point each and stood at 95 and 104, respectively. In contrast, future domestic economic conditions fell three points to 109. Future household spending also fell one point to 108, and future household income remained steady at 103.
The president's reforms
The election of President Moon on May 9, 2017, ended the political turmoil after the bribery scandal that sent former President Park Geun-hye and a Samsung group heir to jail. President Moon is keeping job creation as the government's top priority in the reforms and policy decisions for 2017. According to Korean government data, the number of persons employed in April and May 2017 rose an average of 400,000 per month on a year-over-year basis, which was a faster pace compared to the previous quarter.
Article continues below advertisement
The increase in exports over the last few months have also provided a much-needed boost to employment in the country. Private consumption is expected to gradually increase in 2017, boosted by improved consumer confidence. However, negative factors such as increasing household indebtedness are expected to impact consumer spending in 2017.
Geopolitical tensions
Geopolitical tension due to its neighbor North Korea also keeps affecting the consumer and business sentiments in South Korea (IEMG). Recently, North Korea fired off one of its long-range ballistic Hwasong-14 missiles, thus increasing tension within the region as well as far off in the West.
Let's look next at the inflationary trend in South Korea in 2017.