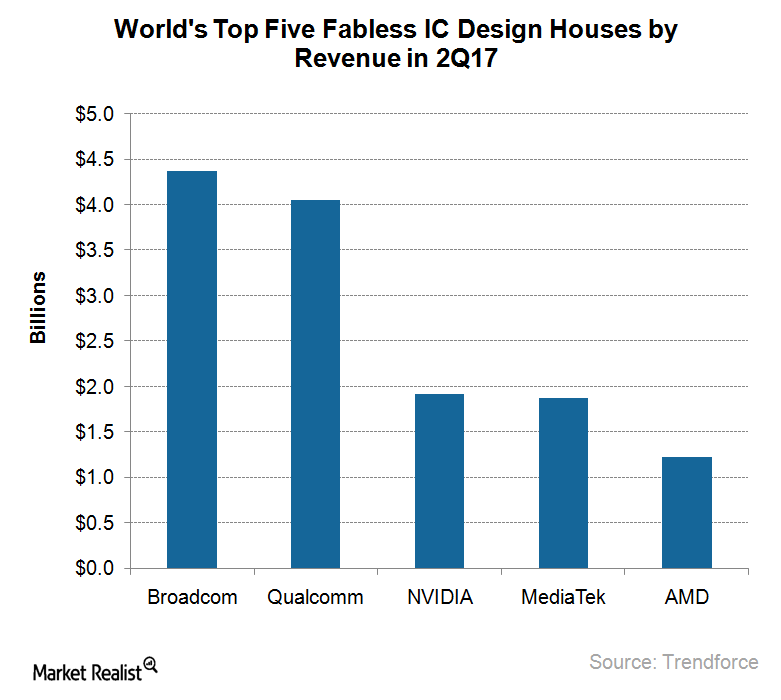 A Look at Broadcom's Business Ecosystem
By Puja Tayal

Oct. 29 2019, Updated 11:39 p.m. ET
Broadcom: The world's largest IC company 
After multiple mergers and acquisitions, Broadcom (AVGO) became the world's largest fabless IC (integrated circuit) design company by revenue in 2Q17, according to Trendforce. Broadcom was followed by Qualcomm (QCOM) and NVIDIA (NVDA) in second and third place, respectively. Broadcom has a vast portfolio of 18 IC components used in the communications market.
Broadcom's business segments are Wired Infrastructure, Wireless, Enterprise Storage, and Industrial. Its products and services include data center networking, set-top boxes, broadband access, smartphones, factory automation, and electronic displays.
Article continues below advertisement
Broadcom's growth drivers
TrendForce analyst CY Yao stated that Broadcom became a leader in IC design due to strong growth momentum in network infrastructure, data center applications, and automotive electronics. He expects that companies with exposure to the above three markets would witness strong growth in 3Q17 as well. Yao added that companies with exposure to smartphone chipsets or display drivers could face a slowdown in growth.
Qualcomm, which has a large exposure to smartphone chipsets, is seeing a slowdown in growth. NVIDIA and Xilinx (XLNX), which have large exposure to network infrastructure and data center applications, are enjoying strong growth.
Broadcom has exposure in each of these markets, and it earns around 10% of its revenues from Apple (AAPL). Some analysts believe that Broadcom would be the biggest beneficiary from the iPhone 8. This growth comes along with several challenges.
Broadcom's challenges
Broadcom is acquiring Brocade Communications Systems (BRCD) to expand its reach in the enterprise and data center storage market. However, this acquisition has been facing stringent scrutiny from regulators, which delayed the deal by a few months.
Broadcom recently came under negative news after a flaw in its chips exposed several smartphones to a bug. Although the issue has been resolved, it prompted the company to improve the security of its chips. Despite these challenges, Broadcom has posted strong earnings, and it is on track to meet or exceed its target financial model.
In this series, we'll look at the opportunities and challenges that could impact Broadcom's fiscal 3Q17 earnings.[1. fiscal 3Q17 ended July 31, 2017]