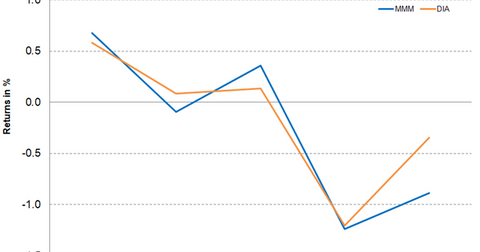 3M's Board of Directors Will Include Amy Hood
By Peter Neil

Updated
3M's board of directors
On August 14, 2017, 3M (MMM) included Amy E. Hood, the executive vice president and CFO of Microsoft (MSFT), on its board of directors. She became a part of the board on August 13, 2017.
At Microsoft, Hood handles acquisitions, treasury activities, tax planning, accounting and reporting, internal audits, and investor relations. She will be part of 3M board's finance committee. Inge G. Thulin, 3M's chairman, president, and CEO, said, "We are extremely pleased to welcome Ms. Hood to our board.She brings her tremendous skill and immense experience to our board, especially in strategic business development, finance, and digitization."
Article continues below advertisement
3M's stock performance
3M stock had a mediocre week. The stock fell 1.2% and closed at $203.53 for the week ending August 18, 2017.  The company underperformed the SPDR Dow Jones Industrial Average ETF (DIA), which fell 0.8% during the same period. The fall in the stock price reduced the 100-day moving average gap. 3M traded 0.6% above the 100-day moving average price of $202.21, which indicates an upward trend in the stock. However, the gap is very marginal. On a year-to-date basis, the stock has returned 14%. Analysts expect 3M's 12-month price target to be at $205.45, which implies a return potential of 0.9% from the closing price as of August 18.
3M's RSI (relative strength index) of 40 indicates that the stock isn't overbought or oversold. An RSI of 30 and below indicates that the stock temporarily moved into an "oversold" position, while an RSI of 70 and above indicates that the stock is "overbought."
Investors looking to hold 3M indirectly can invest in DIA, which has 6.40% of its portfolio in 3M. The fund's other holdings include Boeing (BA) and Goldman Sachs (GS) with weights of 7.30% and 7.0%, respectively, as of August 18, 2017.