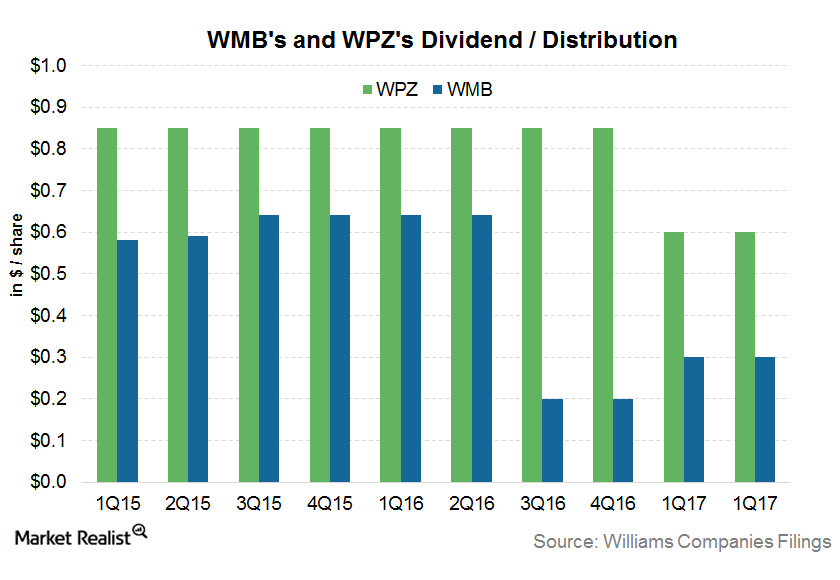 Will Williams Partners' Coverage Ratio Improve in 2Q17?
Williams Partners' 2Q17 distribution
Williams Partners (WPZ) recently declared a distribution of $0.60 per unit for 2Q17—a 29% decrease from its distribution per unit of $0.85 in 2Q16. WPZ announced a distribution cut starting from the first quarter of 2017 to improve its coverage ratio. Based on the recent distribution, WPZ is trading at a distribution yield of 5.8%.
The partnership's distribution coverage is expected to improve in 2Q17, driven by distributable cash flow growth and flat distribution. However, Williams Partners expects its distributable cash flow to fall ~9.0% YoY in 2017. The expected fall in partnership distributable cash flows could be due to asset sales and contract restructurings. WPZ recently completed the sale of its Geismar plan to Nova Chemical.
Williams Partners is expecting to grow its distribution by 5%–7% annually in the coming years while mainlining a coverage ratio of 1.2x for 2017 and more than 1.1x after that.
Article continues below advertisement
Williams Companies' 2Q17 distribution
Williams Companies (WMB) also declared a flat dividend of $0.3 per share in 2Q17. WMB is targeting dividend growth of 10%–15% over the coming years while maintaining distribution coverage of 1.3x for 2017 and above 1.1x after that.
Based on the recent dividend, WMB is trading at a dividend yield of 3.8%. Notably, both Williams Partners and Williams Companies are trading at a lower yield compared to the Alerian MLP ETF (AMLP) at 7.7%.