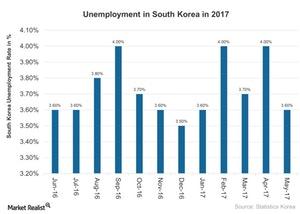 Will President Moon's Efforts Improve Employment in South Korea?
By Mary Sadler

Updated
South Korea's employment situation
South Korea, Asia's (AAXJ) fourth-largest economy, posted a decline in its unemployment rate to 3.6% in May 2017 as compared to 4% in April of 2017. The first liberal president in South Korea (EWY) in the last decade has raised hopes with labor-friendly policies. President Moon's election campaign had promised to create 810,000 new jobs in the public sector in 2017. Let's look at the unemployment situation in South Korea over last year in the below chart.
Article continues below advertisement
Unemployment in May 2017
The unemployment rate in May 2017 was at its lowest level in the last six months. The number of employed persons totaled 26,824 thousand people in May 2017, an increase of 375 thousand people, or 1.4%, year-over-year. The employment-population ratio was 61.3% in May, an increase of 0.3% year-over-year.
The improvement in the employment situation in May 2017 is in part due to President Moon's reforms. South Korea is currently grappling with high youth unemployment. However, the youth unemployment as of May 2017 has fallen from 11.3% in April 2017 to 9.6% in May 2017. The labor force participation rate also slightly rose to 63.6% in May 2017 from 63.5% in April 2017.
President Moon's reforms
Through his reforms, President Moon is aiming to bring about structural changes to reduce unemployment. The president's reforms are expected to curb or control the influence of South Korea's powerful chaebols, which include family-owned businesses. Some of the big corporates of South Korea include Samsung and Hyundai.
President Moon's efforts to change labor laws and reduce unemployment could speed up South Korea's (EEM) economic recovery.
Let's look at South Korea's trade balance in our next article.