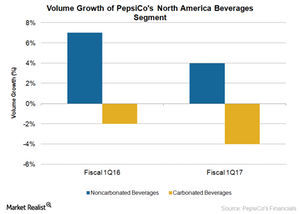 Will PepsiCo Be Able to Address the Weakness in Its Soda Volumes?
By Sirisha Bhogaraju

Updated
Dismal volumes
PepsiCo (PEP) and its peers in the nonalcoholic beverage industry continue to see weak soda volumes. In fiscal 2016, the company's North America Beverages segment's soda or carbonated beverage volumes fell 1%. In contrast, the segment's noncarbonated beverage volumes were up 7% in fiscal 2016. PepsiCo's soda volumes continued to decline in fiscal 1Q17 as well.
Article continues below advertisement
Volumes in fiscal 1Q17
In fiscal 1Q17, which ended on March 25, 2017, the overall volumes of the North America Beverages segment fell 1% on a year-over-year basis. The segment's carbonated beverage volumes fell 4%. The segment's noncarbonated beverage volumes rose 4% year-over-year in fiscal 1Q17.
The noncarbonated beverage volume growth was driven by a double-digit increase in the segment's water portfolio and a mid-single-digit rise in Gatorade sports drinks volumes.
Beverage giant Coca-Cola (KO) also experienced weak soda volumes in fiscal 1Q17. The company reported a 1% decline in its sparkling soft drink volumes in fiscal 1Q17.
Steps to improve volumes
PepsiCo and its rivals are taking several initiatives to improve their soda volumes. PepsiCo is working on innovative beverages with low or no sugar and more natural ingredients. This year the company launched Lemon Lemon, a sparkling lemonade with 70 calories per 12-ounce serving. Another low-calorie beverage it launched this year is Izze Fusions, which contains 60 calories per 12-ounce serving.
PepsiCo and its peers are also promoting smaller soda beverage packages as better choices. The smaller packs benefit beverage companies, as they carry higher margins.
PepsiCo is also enhancing its noncarbonated beverage offerings. In early 2017, the company launched its J7 whole fruit line in Russia. This beverage line contains 100% fruit juice and nectars and the fiber of a whole fruit.
We'll discuss the company's margins in the next part of this series.