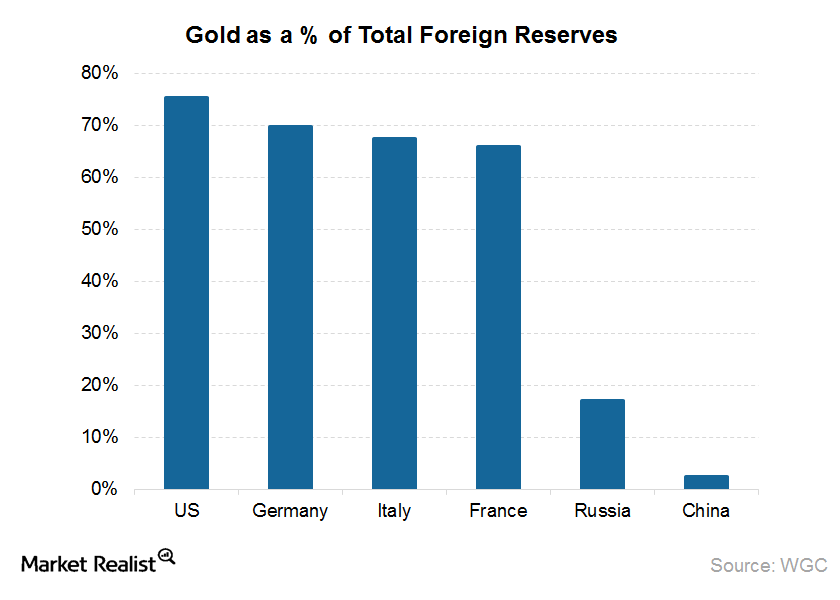 Will Central Banks' Gold Reserve Holdings Push Gold Higher?
Russia steadily buying gold
Russia and China have been vocal about adding gold reserves to cut their economies' dependence on the US dollar. They're continually adding gold reserves. Russia's gold reserves have more than tripled since 2005. So far in 2017, it has added to its gold reserves every month. In the first five months, it added 5.0 million ounces to its gold reserves. The latest figure for May showed an increase of 21.8 million tons with total holdings at 1,708 tons. Russia ranks sixth globally in gold reserves.
Article continues below advertisement
China is diversifying away from the dollar
China has also been on a gold accumulation spree in order to back up the yuan with gold so it can play an important role in the world's financial markets. It also believes it should have a greater influence on gold prices since it is the biggest gold consumer. Many market participants believe that China's reserves could be a lot higher than what it actually reports. An interesting thing to note is that even after the central bank's gold purchases, China's gold reserves as a percentage of its total foreign reserves is just 2.4%, according to data released by the World Gold Council. That's minuscule compared to 75.2% for the United States and 69.7% for Germany. So there are high expectations of China buying even more aggressively to increase its gold reserves in proportion to its total foreign reserves.
Decoupling of US dollar and gold
Efforts of the major world economies to decouple from the US dollar and their consequent rise in gold holdings are good for gold prices. Due to the current geopolitical turmoil, countries, especially Russia and China, are expected to continue to add to their gold reserves. That will help gold prices as well as the stocks for gold miners such as Barrick Gold (ABX), New Gold (NGD), Yamana Gold (AUY), and Royal Gold (RGLD).
The changes in gold prices often magnify the changes in leveraged funds such as the Direxion Daily Gold Miners Bull 3X ETF (NUGT), the Direxion Daily Junior Gold Miners Bull 3X ETF (JNUG), and the Direxion Daily Junior Gold Miners Bear 3X ETF (JDST).