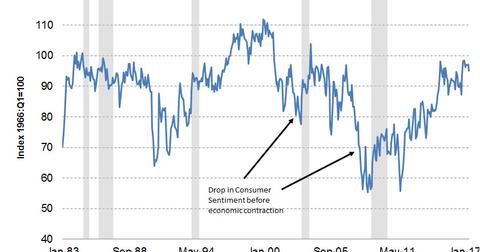 Why We Need to Track Consumer Expectations
By Ricky Cove

Updated
Consumer expectations for business conditions
The University of Michigan Consumer Sentiment Index is a measure of consumer expectations for future economic conditions. The index is prepared based on two different surveys.
One survey is conducted by Reuters and the University of Michigan, and it collects consumer expectations for economic conditions for a period 12 months into the future. The second survey is conducted by The Conference Board and records consumer expectations for business conditions six months into the future. The index is an equal-weighted average of both of these surveys, and it reflects consumers' expectations.
The index is based purely on expectations, as no hard economic data are used. Even so, consumer sentiments have been helpful as early indicators of recessions, so the index has an important place in The Conference Board Leading Economic Index (or LEI).
Article continues below advertisement
Recent data
As per the recent LEI data released by The Conference Board, the index of average consumer expectations for business conditions fell to 0.38 in June, compared to 0.56 in May. The University of Michigan Index slipped to 93.1 in June, compared to 95.1 in May. This negative surprise led to a minor sell-off in equity markets (SPY) (QQQ), US bonds (BND) (GOVT), and the US dollar (UUP).
The driver of this sudden fall in expectations was investors' reduced hopes for fiscal and tax reforms from the Trump administration.
Conclusion
Despite some negative surprises in the US data in the past month, The Conference Board LEI has continued to improve. The index's value for June was 127.8, a rise of 0.6% compared to May. Eight of the ten constituent items in the index were net positive contributors. At this point, there's no reason to worry about another US economic contraction.