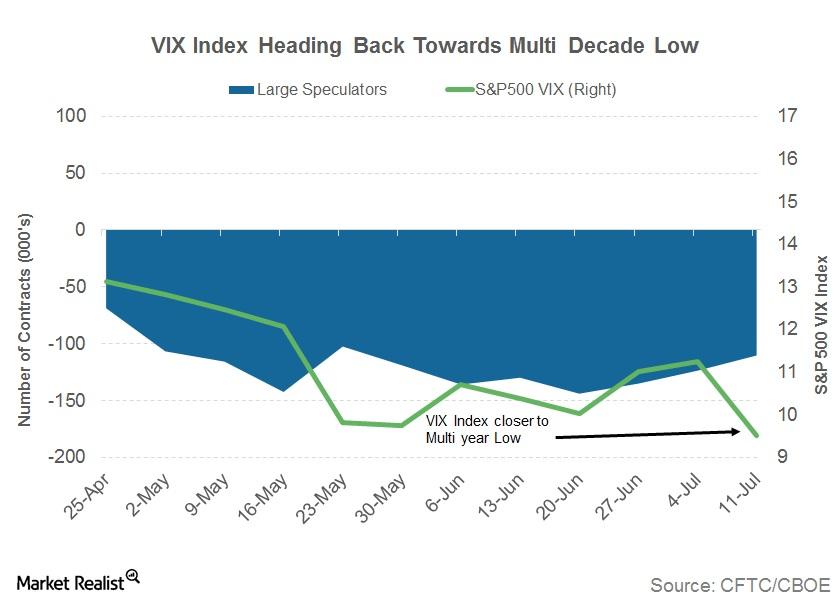 Why Volatility Dropped 15% Last Week
Volatility dropped as markets surged higher
Global markets (VTI) benefited from the central banks' mixed messages last week. Diverging views from global central banks failed to give a clear direction about their policies. Markets in the US registered fresh highs in the previous week as cautious comments from US Fed chair Janet Yellen signaled delayed tightening from the US Fed. Tightening from the Fed would lead to higher interest rates, resulting in higher borrowing costs and lower profit margins for some businesses that can't pass on higher costs. Some sectors like financial services (XLF) may actually benefit from rising rates. The US Fed's trouble with slowing inflation, which has led to stalled policy normalization, stands to benefit the bond (BND) and equity markets while having a negative impact on the US dollar (UUP).
There was a drop in market volatility as markets rose. The S&P 500 (SPY) closed with a 1.4% rise to 2,459.3, the Dow Jones Industrial Average (DOD) closed with a 1.0% rise to 21,637.7, and the NASDAQ (QQQ) closed with a 2.6% rise to 6,312.5.
Article continues below advertisement
Volatility Index dropped 15%
The CBOE Volatility Index VIX (VXX), which is a measure of market volatility, remained subdued last week and closed at $9.51. Volatility dropped 15.0% in the previous week as markets surged ahead to register new highs. With the uncertainty of Fed hikes declining further and better-than-expected Q2 earnings, it's likely that volatility could fall further in the week ahead.
As per the Commitment of Traders Report released by the Chicago Commodity Futures Commission (or CFTC), large speculators and traders have reduced their overall net short positions to 110,288 contracts from the previous week's 123,636 contracts. These figures are from last Tuesday and would have changed after key events last week.
Series overview
Throughout this series, we'll analyze how different asset classes have reacted to the latest turn of events and the negative data from the US economy.