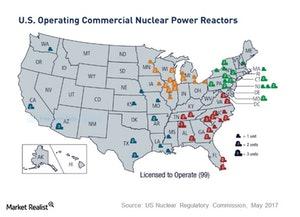 Why US Nuclear Power Generation Is under Serious Threat
By Vineet Kulkarni

Jul. 14 2017, Published 3:50 p.m. ET
US generation mix
Lower natural gas prices have radically transformed US power generation economics in the last couple of years. The change hasn't just toppled coal as power producers' traditional favorite, it's also accountable for lowering the nuclear share in the generation mix.
Over the last five years, five nuclear power plants have shut down their operations, and another six are planning to close by 2025. The United States is the global leader in nuclear power generation. The planned closures will reduce the total number of nuclear plants in the country to 60, and they'll have an average age of ~40 years.
Article continues below advertisement
Diminishing nuclear power
Recent nuclear power plant closings and planned closings include Entergy's (ETR) Palisades facility in Michigan, PG&E's (PCG) Diablo Canyon facility in California, and Dominion Energy's (D) Kewaunee facility in Wisconsin. Exelon (EXC), the largest nuclear power generator in the country, recently announced that it might close its Three Mile Island nuclear power plant in Pennsylvania due to higher operating and maintenance costs.
US nuclear power plants are unable to even break even due to lower wholesale power prices, so they're increasingly chasing states asking for subsidies. According to Bloomberg New Energy Finance, US nuclear power plants are getting paid ~$20–$30 per megawatt-hour for their electricity, while its production costs them ~$35 per megawatt-hour.
According to a recent report released by the EIA (U.S. Energy Information Administration), in March and April 2017, electricity generation by renewables exceeded electricity generation from nuclear producers for the first time in the last 32 years.
To know more about troubled US nuclear power generation, read Cheaper Gas Poses Serious Risk to US Nuclear Power Generation.
In this series, we'll see how the top US utilities (XLU) with high exposures to nuclear generation have performed recently and how they could perform going forward.