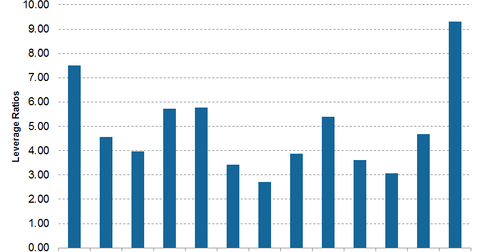 Why United Continental's Increasing Debt Should Concern Investors
By Ally Schmidt

Updated
United Continental raises more debt
United Continental (UAL) has raised ~$1.4 billion in debt in 1Q17, which includes $650 million in revolving credit facility, a term loan of $440 million, and another $300 million in unsecured debt. The total debt now stands at $12.8 billion. However, 2016 has been a welcome change. In 2016, United decreased its debt by $1.6 billion to a total of $11.7 billion.
Article continues below advertisement
Peer comparison
UAL's leverage ratio or net debt to EBITDA is currently the second highest among major carriers. At the end of 1Q17, United Continental's net-debt-to-EBITDA ratio of 9.3x was higher than its leverage at the end of 2016.
American Airlines (AAL) had the highest leverage among airlines with a net-debt-to-EBITDA ratio of 14.8x in the same period. Other industry players had the following ratios:
Southwest Airlines (LUV) was the only airline having more cash than debt on its balance sheet.
Can cash flows help?
In 1Q17, United generated cash flows from operations of $547 million. Free cash flow for the quarter stood at -$144 million. Total cash on the balance sheet at the end of the quarter was $4.4 billion, similar to that at the end of 4Q16 and slightly lower than the $5 billion at the end of 2015. For the full year 2016, United Continental generated cash flow from operations of $5.5 billion and free cash flow of $1.9 billion.
Why is it risky?
Investors should be worried about UAL's debt due to its past history of bankruptcy. United Airlines filed for bankruptcy in December 2002 before its merger with Continental Airlines. It emerged from bankruptcy four years later in February 2006. Continental Airlines too had filed for bankruptcy in the 1980s.
United Airlines wasn't able to generate enough profitability to sustain the high fuel and labor costs, which meant it was unable to service its debt, leading it into a debt spiral.
The current situation is worrisome, as United Continental's cash balance is not sufficient to pay off its debt. It also has poor cash generation.
Investors can gain exposure to United Continental stock by investing in the PowerShares Dynamic Market Portfolio (PWC), which invests 2.3% of its portfolio in UAL. Next, we'll look at United Continental's valuation.