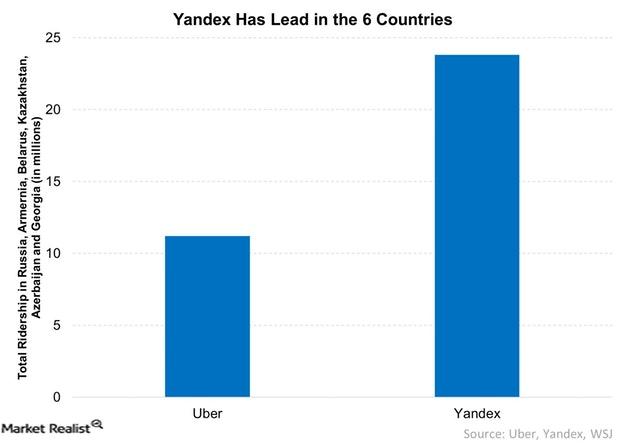 Why Uber Is Merging Its Russian Arm with Yandex
By Sanmit Amin

Sep. 8 2017, Updated 5:46 p.m. ET
Uber's Russian operation and Yandex to join hands
Uber and Yandex (YNDX) have entered a deal to combine their Russian ride-sharing businesses. Yandex, Russia's largest Internet company, will hold 59.3% of the joint venture, while San Francisco-based Uber will own 36.6%. Employees of the newly formed entity will own the remaining stake. Shares in the Russian online giant jumped ~20%.
The new venture does not have a name yet. The joint venture will operate in 127 cities across six countries, including Russia, Belarus, Armenia, Kazakhstan, Azerbaijan, and Georgia.
The ride-hailing company has burnt a lot of cash to expand its app in over 70 countries and 600 cities. Some of the moves it's taken to conquer these markets include bonuses to drivers and discounts to riders.
Article continues below advertisement
Uber has declared a truce with local companies before
This is not the first time Uber has joined hands with a local company. Last year, Uber ended its battle with Chinese rival Didi Chuxing after both companies spent a lot of money to gain market share. Uber sold its China unit to Didi Chuxing. In exchange, the American ride hailing company got a 20% stake in Didi.
Uber has been under a lot of pressure in the United States. Google parent Alphabet (GOOG)(GOOGL) recently sued the ride-hailing company for patent infringement. Also, the company's investors have been exerting pressure on it to address its cultural and financial challenges.