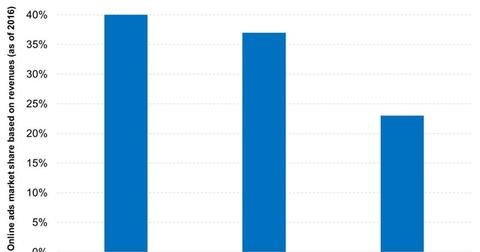 Why the News Media Have Teamed Up against Facebook and Google
By Sanmit Amin

Updated
The news media, Facebook, and Google
About 2,000 media outlets based in the United States and Canada want to negotiate with Google's parent company Alphabet (GOOG) and Facebook (FB) since the two behemoths are dominating news distribution online ads. The media outlets are seeking support from the U.S. Congress for a fair share of the revenues. The two tech giants have made efforts to work closely with the news media to address these issues as the industry continues to shift from print to online.
Article continues below advertisement
Google and Facebook took 77% of online ad revenues in 2016
The digital duopoly of Google and Facebook are currently controlling how the news is displayed. The American online ad market grew by ~$12.0 billion in 2016, with Facebook and Google (GOOGL) collecting 77.0% of those revenues, according to eMarketer. The two are expected to eat up 60.0% of the total US online advertising revenues in 2017, according to estimates by eMarketer.
According to news media outlets, outdated antitrust laws have inadvertently conserved the dominance of the two tech giants, and Google and Facebook have been criticized in Europe and the United States. Viewers attracted to the two platforms have cost the news media online ad revenue.
Facebook, the social media giant, has had many meetings with the media over the last few months to discuss various matters, including permitting the media outlets to have more control over ads. Google has held similar meetings.