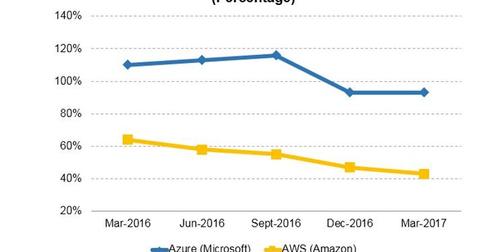 Why the Cloud Segment Is Critical for Microsoft's Revenue Growth
By Sanmit Amin

Updated
Microsoft beats analyst estimates on earnings and revenue
Microsoft (MSFT) has reported its earnings for fiscal 4Q17 (ended June 30, 2017). It beat Wall Street estimates on earnings and revenue.
Microsoft saw strong earnings growth in the quarter. The Washington-based company reported net income of $6.5 billion in fiscal 4Q17, or $0.83 per share, after accounting for the impact of revenue deferrals and other items. That compares to a net profit of $3.1 billion, or $0.39 per share, in the same quarter last year. The company's revenues came in at $27.4 billion, a 9.0% rise year-over-year.
Article continues below advertisement
Growth in the cloud business is key for Microsoft
One of the key drivers of Microsoft's revenues has been its intelligent cloud business, which includes Azure. In 4Q17, this segment delivered revenues of $7.4 billion, an 11.0% rise from 4Q16. Its Azure revenue growth slowed down to 97.0%. Microsoft is in the second spot behind pioneer Amazon (AMZN) in the cloud business. However, Microsoft Azure is growing faster than Amazon Web Services (or AWS), as the graph above shows.
Microsoft's Office 365 revenues soared 43.0% compared to the same quarter the previous year. LinkedIn's revenue also rose in 4Q17, from $975.0 million in 3Q17 to $1.1 billion in 4Q17. The company's More Personal Computing segment saw revenues of $8.8 billion in 4Q17, a 2.0% fall from the previous year.
Microsoft is spending aggressively to build costly, massive data centers around the globe. In fiscal 4Q17, the tech giant spent $3.3 billion on capital expenses. A good chunk of that cash was spent for its data center expansion, according to the Wall Street Journal. MSFT stock rose 3.1% in after-hours trading on the day of the earnings release.