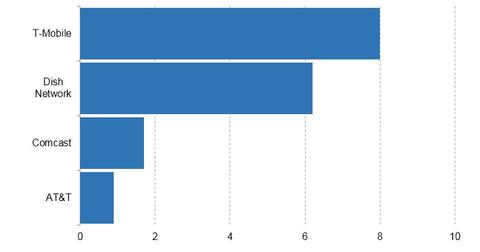 Why T-Mobile Views 5G as a Mobile Technology
By Ambrish Shah

Updated
T-Mobile's 5G strategy
In the telecom (telecommunications) industry, 5G (fifth-generation) technology is generating a lot of excitement. It could provide ten to 100 times faster wireless data speeds than 4G (fourth-generation) technology. T-Mobile (TMUS) is planning to utilize the low-band airwaves it's acquiring from the FCC (Federal Communications Commission).
During the recent JPMorgan Technology, Media & Telecom Conference held on May 22, 2017, Braxton Carter, T-Mobile's executive vice president and chief financial officer, was asked about T-Mobile's plans for 5G. Carter said that T-Mobile is not as interested in fixed wireless applications of 5G as much as enabling it broadly nationwide on a mobile basis. Further, 5G will be deployed across various spectrum bands, and 600 MHz (megahertz) will play an important role. T-Mobile's management has indicated that by 2020, it will offer 5G wireless technology across the United States (SPY).
T-Mobile won a significant chunk of 600 MHz low-band spectrum during the FCC's recently concluded incentive auction, placing an $8 billion competitive bid compared to AT&T's (T) less than $1 billion bid.
Article continues below advertisement
Taking alternative routes to 5G
T-Mobile's bigger rivals, AT&T and Verizon (VZ), are also investing in 5G networks, aided by telecom equipment vendors Ericsson (ERIC), Intel (INTC), and Nokia (NOK). However, while AT&T and Verizon have preferred denser urban markets for their 5G networks, suggesting a patched rollout, T-Mobile is seeking nationwide 5G coverage.