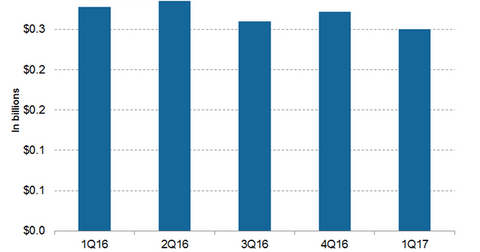 Why Pfizer's Sutent Could Witness a Modest Decline in 2017
By Daniel Collins

Updated
Sutent's revenue trends
In 2016, Pfizer's (PFE) Sutent reported revenues of ~$1.1 billion, which represented a ~2% decline on a YoY (year-over-year) basis. In 1Q17, Sutent generated revenues of ~$250 million, which represents a ~10% decline YoY and a ~8% decline on a QoQ (quarter-over-quarter) basis.
The decline in revenues of Sutent in 1Q17 was primarily due to increasing market competition in the US and Europe and cost restraining measures in some developed international markets. The increasing price of the drug in the US and high demand in Japan and some emerging markets partially offset the decline in revenues for the quarter. The unfavorable impact of foreign exchanges also impacted Sutent's revenues in 1Q17.
Article continues below advertisement
About Sutent (sunitinib malate)
Sutent is indicated for the treatment of individuals with a gastrointestinal stromal tumor who have disease progression or are intolerant to imatinib mesylate. Sutent is also used for the treatment of advanced renal carcinoma and progressive pNET (pancreatic neuroendocrine tumors) in individuals who have an unresectable metastatic disease.
In May 2017, the FDA (US Food and Drug Administration) accepted the sNDA (supplemental new drug application) for Sutent. The sNDA was filed to approve the use of Sutent for adjuvant therapy in adult patients who are at high risk of RCC (recurrent renal cell carcinoma) post nephrectomy. The FDA has provided a PDUFA (Prescription Drug User Fee Act) action date in January 2018.
Pfizer conducted the S-TRAC phase-3 trial for the evaluation of the efficacy of Sutent in patients with resected locoregional RCC and are at high risk of relapse. The study achieved a primary endpoint by demonstrating a substantial improvement in DFS (disease-free survival). After one year of treatment, the median DFS was 6.8 years for patients treated with Sutent, compared with 5.6 years for patients in placebo therapy.
Pfizer's Sutent faces stiff competition from Novartis' (NVS) Afinitor, Bristol-Myers Squibb's (BMY) Opdivo, and Roche Holding's (RHHBY) Avastin. Notably, the Vanguard Total Stock Market ETF (VTI) has ~0.89% of its total portfolio holdings in Pfizer.