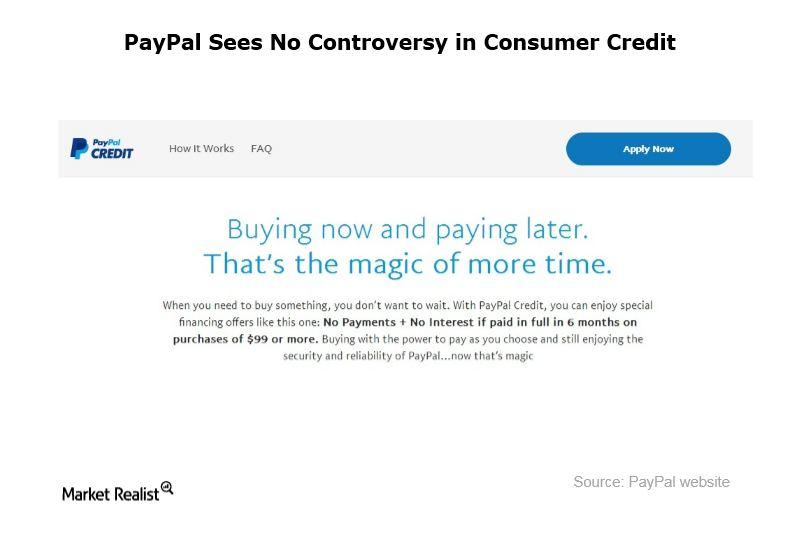 Why PayPal Is Willing to Sacrifice for PayPal Credit
By Neha Gupta

Nov. 20 2020, Updated 4:32 p.m. ET
No annual fees
PayPal Credit allows PayPal (PYPL) users to purchase products from PayPal merchants and pay later. This revolving credit line, underwritten by Comenity Capital Bank, doesn't incur annual fees. Interest charges don't apply if the balance is repaid in full within six months for purchases of $100 and above.
However, the credit business is considered by some to be a controversial component of PayPal's consumer strategy. Some analysts, such as Paul Ribeiro of BMO Capital, have suggested that PayPal is exposing itself to unnecessary risks by immersing itself in the consumer credit pool.
Since the 2007–2008 financial meltdown, several large banks have sought to reduce their exposure to consumer lending, which they consider a risky business.
Article continues below advertisement
PayPal sees a bright future in consumer credit
However, PayPal's management doesn't view consumer lending as a potentially toxic strategy. PayPal's CEO, Daniel Schulman, speaking at a conference organized by Sanford C. Bernstein in June, highlighted the benefits of PayPal Credit. He noted that consumers who use this credit facility spend twice as much on purchases via PayPal as consumers who don't use PayPal Credit.
PayPal's CFO, John Rainey, also offered a positive review of the business when he spoke at the J.P. Morgan Global Technology, Media, and Telecom Conference on May 22, 2017.
Schulman hinted that PayPal was willing to forgo profits in the credit business as long as it helps fuel growth in its other operations.
A tool for curbing churn
Consumer credit can also be viewed as a vital component for improving customer retention. At a time when the digital payment market is heating up with competition, we believe that PayPal needs to find ways to reduce customer churn. Square (SQ), Apple (AAPL), Alibaba (BABA), and Samsung (SSNLF) are giving PayPal competition in the online payment space.