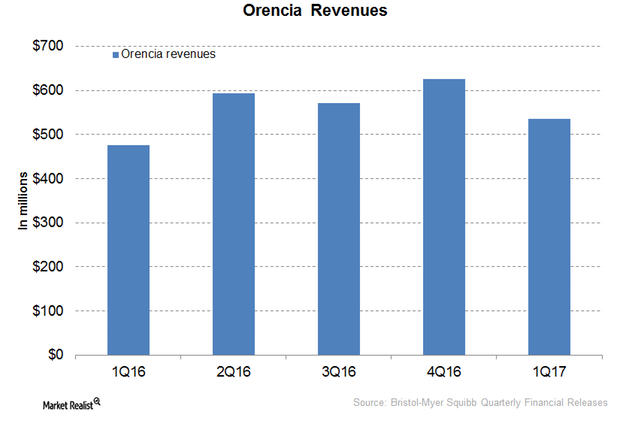 Why Orencia Could Be Just What BMY Needs in 2017
By Daniel Collins

Jul. 10 2017, Updated 7:37 a.m. ET
Orencia revenue trends
In 2016, Bristol-Myer Squibb's (BMY) Orencia reported revenues of ~$2.3 billion, which represents a ~20% YoY (year-over-year) rise. The US accounted for ~68% of Orencia's total revenues.
In 1Q17, Orencia generated revenues of ~$535 million, which represents a ~13% YoY rise and 14% sequential fall.
Article continues below advertisement
Recent developments
In June 2017, the company announced the availability of an Orencia subcutaneous administration choice for patients older than two with moderate to severe active polyarticular JIA (juvenile idiopathic arthritis).
Developments in 2016
In May 2016 and July 2016, Bristol-Myer Squibb commercialized the Orencia ClickJect auto-injector for adult patients with moderate to severe RA (rheumatoid arthritis) in Japan and the US.
In September 2016, the company announced EC (European Commission) approval of Orencia in combination with methotrexate for the treatment of highly active and progressive diseases in adult patients with RA who did not undergo a prior treatment with methotrexate.
The drug faces stiff competition in the RA market from Amgen's (AMGN) Enbrel, AbbVie's (ABBV) Humira, and Johnson & Johnson's (JNJ) Remicade and Stelara.
Notably, the Vanguard Growth ETF (VUG) has ~0.90% of its total portfolio holdings in BMY.
About Orencia
Orencia (Abatacept) is a fusion protein wherein immunoglobulin igG1 is fused to cytotoxic T-lymphocyte-associated protein 4, or CTLA-4. The drug acts by interfering with the immunological activity of T cells. The drug is a T cell co-stimulation modulator and is indicated for RA in adult patients, JIA for patients older than two, and psoriatic arthritis in adult patients.