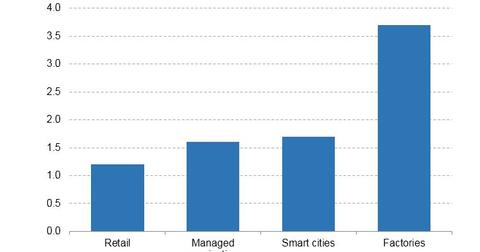 Why Nokia Is Keen on the Japanese Market
By Ruchi Gupta

Jul. 14 2017, Updated 10:36 a.m. ET
Carriers to funnel to $45.7 billion to 5G rollout
Nokia (NOK) is positioning itself to take advantage of the billions of dollars Japanese network operators are planning to spend on network upgrades over the next few years.
According to a recent report by the Nikkei Asian Review, the three leading Japanese network operators, NTT DoCoMo, KDDI, and SoftBank, plan to invest ~$45.7 billion in 5G (fifth-generation) network rollouts. These carriers intend to roll out 5G networks to their customers in select locations in 2020, with DoCoMo, in particular, eyeing a nationwide 5G rollout by 2023.
SoftBank is the parent of US (SPY) wireless operator Sprint (S), which is reportedly seeking an alliance with T-Mobile (TMUS).
Article continues below advertisement
Strategic partnerships
Nokia has been inking strategic partnerships to boost its chances of riding the 5G rollout wave in Japan. It's partnered with DoCoMo and KDDI to test 5G networks in the country.
Nokia has reported impressive results from the tests it's completed with these partners. For example, in a trial done in collaboration with KDDI to simulate 5G network demands in an apartment block, Nokia said that its technology was able to transmit at speeds above 1 Gbps (gigabits per second) on the 28 GHz band.
Cultivating relationships
Network vendors such as Nokia, Ericsson (ERIC), and Cisco (CSCO) are working to cultivate relationships with carriers to open business channels for their network equipment and solutions as they eye the 5G market.
The rise of online video services and the Internet of Things (or IoT) are driving demand for high-speed Internet and 5G networks. Consulting company McKinsey expects the economic impact of IoT technology to be between $4.0 trillion and $11.0 trillion by 2025. Factories are expected to be the strongest driving forces of IoT adoption, as we can see in the chart above.