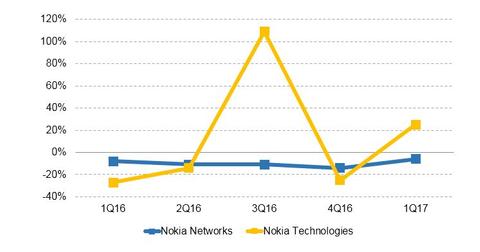 Why Nokia Could Step Up Its Patent Enforcement
By Ruchi Gupta

Updated
Slowdown in network upgrades
If we consider Nokia's (NOK) financial reports for the past several quarters, we can see an image of a company in need of growth boosters.
Nokia relies on selling network equipment and services for the majority of its revenue, but robust growth in this segment has been difficult lately amid a slowdown in the network upgrade market and escalating competition from Cisco (CSCO) and Ericsson (ERIC).
Major large telecommunications (or telecom) carriers have completed or have nearly completed network upgrades to 4G LTE (fourth-generation long-term evolution) technology. Though the transition to the more advanced 5G (fifth-generation) technology promises to be a huge opportunity for network equipment vendors such as Nokia, the commercial deployment of 5G networks is still years away.
Article continues below advertisement
More room for growth in the technologies market
While Nokia's networks business could remain slow for a few years before it picks up again, Nokia could compensate for the slowdown via the aggressive monetization of its technologies through patent licensing.
In 1Q17, Nokia's Technologies segment was a bright spot. Its revenue rose 25.0% YoY (year-over-year) to 247.0 million euros. In contrast, Nokia's networks business saw a revenue fall of 6.0%.
Improving patent monetization would not only allow Nokia to mitigate the effects of the slowdown in the networks market, it would also help the company reduce its reliance on networks sales. The company's acquisitions of Withings and Alcatel-Lucent added to the patents it could use to drive growth in its Technologies segment.
Apple could inspire more Nokia action
Nokia's patent settlement with Apple (AAPL) in June could embolden it to step up the enforcement of its patents.
However, Nokia's attempt to aggressively enforce its patents could meet with resistance from alliances such as LOT Network, a group formed to fight back against patent trolls. LOT Network's membership has been growing, with Cisco recently joining the alliance. Alphabet's Google (GOOGL) created LOT Network.