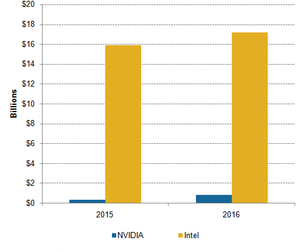 Why Jefferies Is Bearish on Intel
By Puja Tayal

Updated
NVIDIA: Intel's new nemesis
Jefferies analyst Mark Lipacis is bearish on Intel (INTC), as he believes that the company has a disadvantage over NVIDIA (NVDA) in the new era of parallel computing and DNN (deep neural networks).
NVIDIA started working on hardware and software solutions for deep learning and AI (artificial intelligence) more than five years ago. Years of research resulted in NVIDIA's Tesla GPU (graphics processing unit) platform for data center and its CUDA software platform for DNN.
Article continues below advertisement
Lipacis stated that Intel's new Xeon PHI platform is no competition for NVIDIA's GPU. Historically, a computing platform increased its clock speed with every new generation, thereby improving its performance. This increasing performance trend is the core of Moore's law. However, Moore's law has slowed because a higher clock speed is not translating into significantly higher performance.
On the other hand, NVIDIA has architected the entire system in a way that it delivers advanced computing at multiple levels, including processor architecture, system software, algorithms, and applications, making it a better fit for parallel processing.
NVIDIA's revenue growth versus Intel's revenue growth
More companies are shifting their server processing to GPUs, thereby reducing the demand for Intel's server processors. NVIDIA's Data Center segment revenues increased 145.0% YoY (year-over-year) to $830.0 million in fiscal 2016 while Intel's Data Center segment revenues rose 7.8% YoY to $17.2 billion during the same period.
NVIDIA's Data Center segment is now 5% the size of Intel's Data Center segment. At present, 5% may look like a small ratio. However, it could increase rapidly as NVIDIA forecasts double-digit growth while Intel forecasts single-digit growth in its Data Center segment. Lipacis expects Intel's Data Center business revenue growth to slow from 7% in fiscal 2017 to 5% in fiscal 2018.
Intel's other competitors
Lipacis stated that other small competitors are also emerging in the PC and data center markets. Advanced Micro Devices (AMD) has re-entered the high-end server market with its x86-based EPYC server processors and high-end PC market with x86-based Ryzen series.
Until now, Microsoft (MSFT) Windows was only available on Intel's x86 PC processors. Microsoft is now looking to provide Windows support for ARM processors, threatening Intel's market share in the PC space.
Intel is relying on its Altera FPGA (field programmable gate array) accelerator to compete with NVIDIA's GPUs in the AI space. However, Xilinx (XLNX) is one year ahead of Intel in FPGA technology.
This renewed competition has pulled down Intel's stock price. We will look into this trend next.