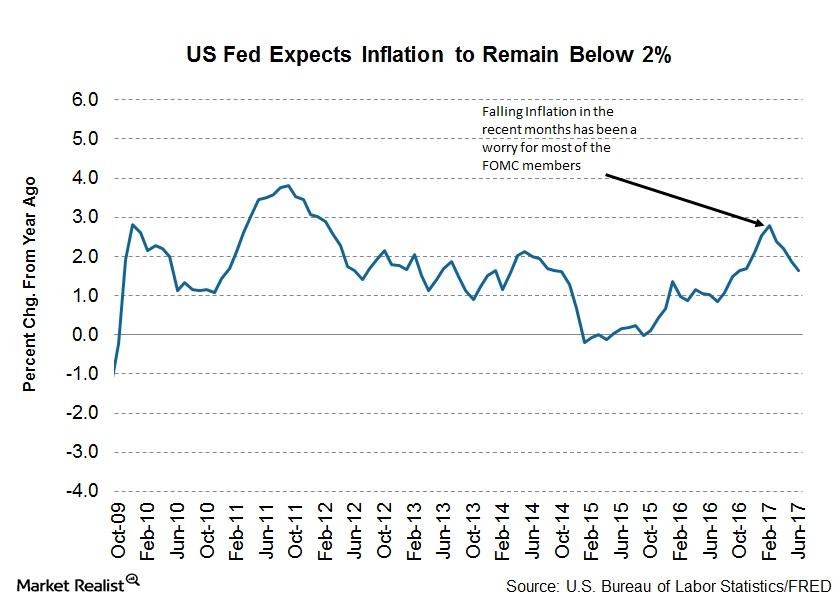 Why FOMC Members Are Worried about Inflation
By Ricky Cove

Jul. 28 2017, Updated 9:08 a.m. ET
FOMC feels meeting inflation goals will take time
The Federal Reserve's view on US inflation was a key driver of the market's movements after the release of the FOMC's (Federal Open Market Committee) July meeting statement on July 26, 2017.
In the statement, the FOMC noted that overall inflation growth had been falling in recent months, and on a 12-month basis, US inflation (TIP) was expected to remain slightly below the 2% target in the near term. The medium- to long-term outlook was left unchanged, and inflation was expected to move above the 2% mark.
Article continues below advertisement
Worrying trends in inflation
Lower levels of inflation growth remain a concern for key members of the FOMC. Even though the Fed went ahead and raised the interest rate in its last meeting, writing off the slowdown in the first quarter as transitory, it'll be tough to continue on the path toward normalization if inflation remains low. This sentiment has been key to the flattening of the yield curve in recent months as short-term rates (SHY) have been rising faster than the long-term rates (TLT).
How will this affect the markets?
We've already begun witnessing the flattening of the yield curve, and if the current trend of weakness in US inflation (VTIP) growth continues and the Fed continues its monetary policy tightening, an inverted yield is a possibility. Bond markets (BND) will have to bear the brunt of this phenomenon once it happens.
An inverted yield curve is considered a warning sign for an impending recession. As of now, the odds of a recession are still low, but investors need to be aware of this possibility.
In the next part of this series, we'll analyze the Fed's view on US unemployment.