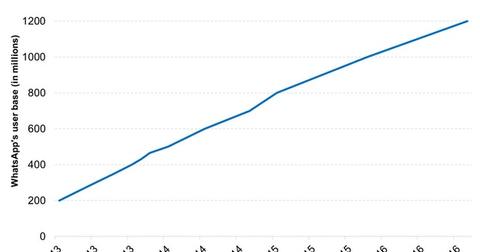 Why Facebook Could Start Generating Revenues from WhatsApp
By Sanmit Amin

Updated
Facebook may soon start making money from WhatsApp
Facebook (FB), the biggest social media platform in the world, bought WhatsApp in 2014 for $19.0 billion. Many investors found this a strange move since it didn't generate revenues.
While Facebook doesn't make money from WhatsApp, the app's (application's) user base has grown from 400.0 million when Facebook bought it to 1.2 billion currently, as the graph below shows. If the social media giant decides to generate revenue from WhatsApp, the company could rake in a lot of money.
According to Recode, WhatsApp is creating monetization roles, which will include a product manager.
Article continues below advertisement
Why Facebook is looking at other avenues to make money
Facebook is running out of space to post ads in its news feed section, which is why its revenues fell in fiscal 1Q17. The company is now looking for other avenues for revenue growth. Facebook recently announced that it will start displaying ads on its Messenger app as well. Once WhatsApp starts making money on its 1.2 billion users, either by charging them or through ads, its revenue growth will soar.
Facebook currently has 2.0 billion users, while the apps it owns—WhatsApp, Messenger, and Instagram—have user bases of 1.2 billion, 1.2 billion, and 700.0 million, respectively.