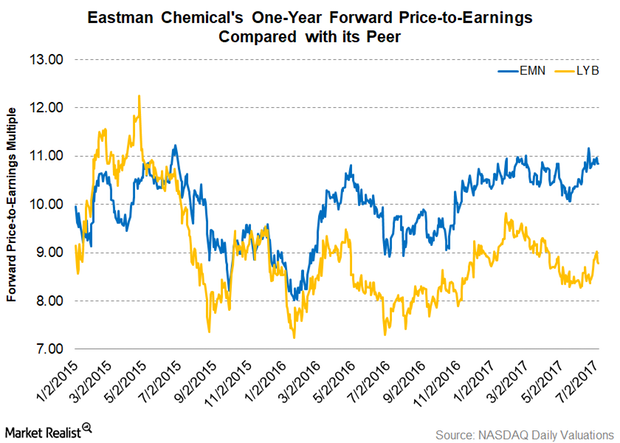 Why Eastman Chemical Is Trading at a Premium to Its Peers
Eastman Chemical's forward PE
In the previous article, we looked at analysts' recommendations for Eastman Chemical (EMN), and in this article, we'll analyze Eastman's latest valuations compared to those of its peers.
On July 6, 2017, EMN's one-year forward PE (price-to-earnings multiple) stood at 10.85x, while its peer LyondellBasell's (LYB) one-year forward PE was 8.80x.
Forward PE is a relative valuation method that considers a company's future earnings. Investors can use this metric to compare two or more companies that are operating in the same industry to judge which company is overvalued and which is undervalued. It also tells investors how much they're paying for a stock per dollar of its expected earnings over the next 12 months.
Article continues below advertisement
Eastman Chemical trades at a premium to its peers
At present, EMN is trading at a premium to its peer LyondellBasell. EMN posted better-than-expected earnings in 1Q17 and raised its 2017 adjusted EPS guidance to the range of 8%–12%. As a result, analysts expect EMN to post EPS (earnings per share) of $7.47 in 2017.
In 2018, analysts expect EMN to post EPS of $8.06, 7.9% higher than its expected EPS for 2017. This growth is expected to result from continued growth in the company's Advanced Materials segment, its investments, and its expansion activities.
On the other hand, analysts expect LYB's EPS growth to be lower than EMN's. Analysts expect LYB's 2017 EPS growth to be in the range of 6.1%–6.8% compared to 2016. For 2018, analysts expect LYB's EPS to fall 7.8% compared to 2017. This fall in growth could be due to its maintenance issues and the uncertainty of crude oil prices, which are currently trading well below $45.00.
Investors can indirectly hold EMN by investing in the iShares U.S. Basic Materials ETF (IYM), which has invested 1.9% of its portfolio in EMN.
IYM's top holdings include Dow Chemical (DOW), DuPont (DD), and Monsanto (MON), which have weights of 11.0%, 10.8%, and 8.0%, respectively, in the fund as of July 6, 2017.