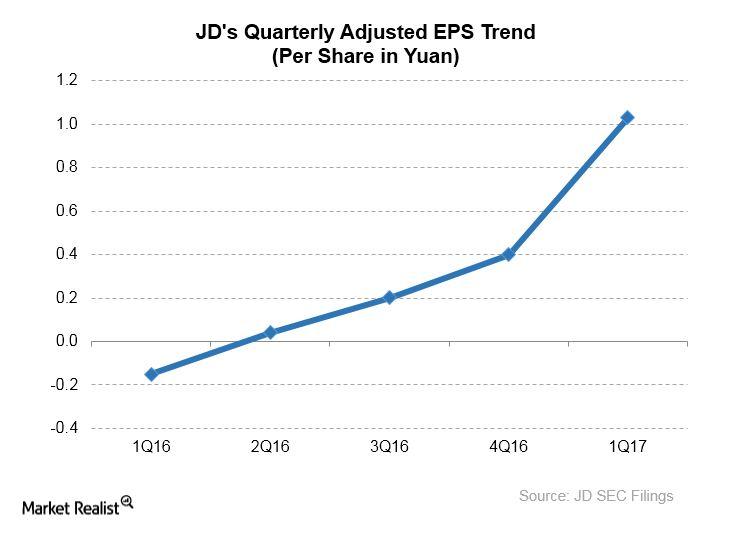 Why Drone Delivery Makes Sense for JD.Com
By Ruchi Gupta

Jul. 5 2017, Published 12:00 p.m. ET
Heavy-load drone project
In late May 2017, JD.com (JD) made a bold claim about its logistics plans, saying that it would build China's largest heavy-load drone logistics network.
According to JD, the network will cover a radius of ~300 kilometers and will comprise hundreds of drones. The company is gearing up to deploy drones that can lift and transport packages weighing more than a ton over hundreds of kilometers. The announcement of this heavy-load drone project came just a few weeks after JD created a dedicated delivery unit called JD Logistics.
Article continues below advertisement
Delivery speeds shaping e-commerce competition
If we consider the future of e-commerce, JD has every incentive to invest in a robust delivery network. Delivery speed is shaping up to define the future of e-commerce, as Amazon (AMZN) has shown with its Prime loyalty program. Prime subscribers are not only loyal customers, they also tend to spend significantly more than regular shoppers on Amazon.com.
The importance of fast delivery speeds is why eBay (EBAY) and Walmart (WMT) are also investing in strengthening their logistics infrastructures. Walmart is contemplating a delivery model in which employees can pick up and deliver customer orders on their ways home from work.
Improving logistics efficiency
For JD, investing in drone delivery could help it to slay several birds with a single stone. Besides increasing delivery speeds and gaining mileage against Alibaba (BABA), its deploying drones could also help it to run a more efficient logistics system, leading to improved profitability.
JD posted adjusted EPS (earnings per share) of 1.03 Chinese yuan ($0.15) in 1Q17, up from EPS of -0.15 yuan in 1Q16. The above chart shows JD's adjusted EPS trend.